Future Living® Berlin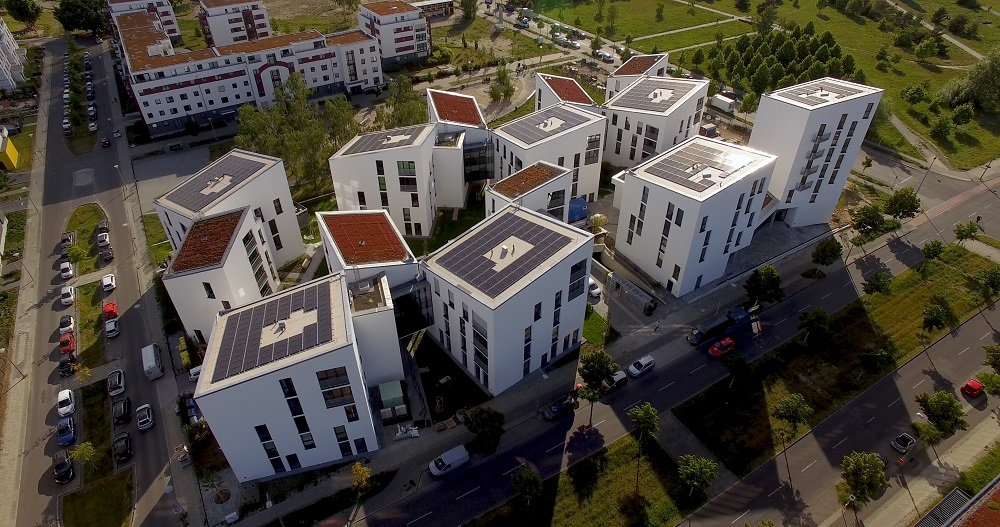 Das Bauvorhaben Future Living® Berlin ist ein Zukunftsmodell für vernetzte Stadtquartiere. Seit 2013 entwickeln die GSW Sigmaringen und die Unternehmensgruppe Krebs mit ihren langjährigen Expertisen im Immobiliengeschäft in Zusammenarbeit mit führenden, internationalen Technologie-Unternehmen ein Modell für das Wohnen der Zukunft. Im Frühjahr 2020 werden die ersten Bewohner das Quartier beziehen.
Future Living® Berlin nutzt die zunehmende Vernetzbarkeit von Produkten und Dienstleistungen und entwickelt auf dieser Grundlage intelligente (= smarte) Lösungen für das Wohnen der Zukunft, die sowohl für einzelne Wohnungen als auch Stadtquartiere anzuwenden sind. Diese Lösungen ermöglichen es ihren Bewohnern Online-Dienste direkt über die intelligente Wohnumgebung zu nutzen. Ein auf dieser Basis entwickeltes, alle Tagesabläufe umfassendes Wohn-Konzept erzeugt für die Bewohner mehr Komfort, Sicherheit und Zeitgewinn.
Future Living® Berlin zeichnet sich insbesondere dadurch aus, dass die Wohnungen von Experten für die zukünftigen Bewohner bereits vorkonfiguriert und bei Einzug voll funktionsfähig sind. Durch diese beiden Aspekte werden die Bewohner in ihren Tagesabläufen intelligent unterstützt. Über eine zentrale App oder Sprache kann die Wohnung gesteuert, individualisiert und um weitere smarte Produkte individuell erweitert werden.
Durch die Vernetzung ist es möglich allen Bewohner einen einfachen Zugriff auf ein geschlossenes CommunityCarSharing im Wohnquartier anzubieten. Selbstverständlich basiert dieses CommunityCarSharing auf E-Mobilität und ist in das ganzheitliche Energiekonzept mit Photovoltaikanlagen und Batteriespeichern eingebunden. Durch die Kooperation mit führenden Technologie-Unternehmen als Projekt-Partner ist die kontinuierliche, technologische Weiterentwicklung auch in Zukunft gewährleistet. Mit der Einbindung der Bewohner sowie der Analyse ihrer Nutzungsdaten sind die beteiligten Partner in der Lage, die angebotenen Lösungen für die Nutzer gezielt zu optimieren.
Das Projekt steht neben seinem innovativen Ansatz ebenso für Nachhaltigkeit und soziale Lösungen. Durch erschwingliche Miet- und Nebenkosten sind die Wohnungen für alle Zielgruppen zugänglich.
Future Living® Berlin gibt damit konzeptionell und architektonisch Antworten auf einige der großen Herausforderungen unserer Gesellschaft wie zum Beispiel den demographischen Wandel, die Energiewende und das veränderte Mobilitätsverhalten und ist durch seinen umfassenden Lösungsansatz einzigartig in Europa.
Quelle Übersichtsbild: Panasonic
The building project Future Living® Berlin is a future modell for interconnected urban district. Seit 2013 GSW Sigmaringen and Unternehmensgruppe Krebs are developing a modell for future living – based on their long term expertise in real estate business and in cooperation with leading international technolog companies. In spring 2020 first residents will move into the new quarter.
Future Living® Berlin is making use of the increasing possibility to interconnect products and services. Based on this chance smart and intelligent solutions for future living as well for the single appartments as for the quarter are developed. These solutions are enabling residents to use online services in their intelligent housing environment. Based on these opportunities a concept of living for daily routine is developed offering residents comfort, security and time saving.
A special enhancement of Future Living® Berlin is the pre-configuration for different appartments by experts that enable residents to move into a "ready to go" appartment and be directly supported in their daily routines in an intelligent way. By using one central app or native language single appartments can be steered, adopted and individually expanded by futher smart products.
Cross-linkage of products and technologies provides all residents with a simple access for an exclusive community care sharing in the residential quarter which is, of course, based on e-mobility and part of an holistic energy concept containing photo-voltaic systems and battery storage. Cooperating with leadig technology companies as project partners a continous and technological progression is guaranteed in the future. Including residents and learning from their usage data participating partner a ready and enabled to improve the offered solutions pointedly further more.
The project with it's innovative aims is also representing for substainibility and social solutions. Affordable rental and ancillary rental costs result in appartments available for many target groups.
Future Living® Berlin is aiming for conceptional and architectural answers for some of the big challenges of our society as demographical changes, energy turnaraound and changing mobility manners. With it's comprehensive solution approach it is unique in Europe.
Source Image: Panasonic