Future Living® Homes
Future Living® Homes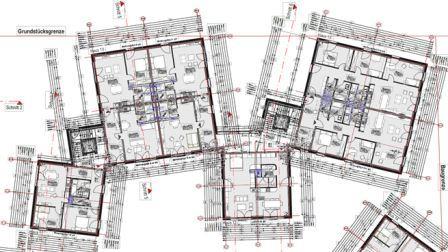 Future Living® Homes steht für ein Mehrgenerationenwohnquartier, das es unterschiedlichen Zielgruppen ermöglicht, zu marktüblichen Mieten das Wohnen der Zukunft zu erleben. Von der flächeneffizienten 1 Zimmer-Wohnung bis zur großzügigen 4 Zimmer-Wohnung bieten Future Living® Homes Raum für Singles, Paare, Familien sowie für Wohngemeinschaften von Senioren oder Studenten. Gemeinsame Lobby-/ Eingangsbereiche fördern Kommunikation und ermöglichen eine effiziente Raumnutzung.
Die 90 Wohnungen in 6 Doppelwohntürmen und 2 Einzeltürmen bieten ihren Bewohnern eine intelligente, von Experten vorkonfigurierte und durch Sprache oder App individualisierbare Wohnumgebung. Sie unterstützt im Alltag, erhöht Komfort, Sicherheit sowie Mobilität und ermöglicht damit ein Leben in den eigenen vier Wänden bis ins hohe Alter. Die intelligente Ausstattung bestehend aus Aktoren (wie Licht, Lautsprecher, etc.) und Sensoren (wie Präsenzmelder, Türkontakte, etc.) ist in das Gebäude integriert.
Zusätzlich können Online-Dienste eingebunden werden, um die Bewohner in ihren unterschiedlichen Tagesabläufen intelligent und unaufdringlich zu unterstützen. So werden beispielsweise Tageszeit, Lichteinfall und Anwesenheit berücksichtigt, um in jeder Situation das genau richtige Licht zur Verfügung zu stellen. Selbst bei körperlichen Einschränkungen kann mit minimalem Aufwand auf die Wohnfunktionen wie Licht, Wasser, Türzutritt etc. zugegriffen werden. Zudem wird über akustische oder optische Signale sowie automatisierte Sicherheitsmechanismen verhindert, dass bei eingeschränkter Seh- oder Hörfähigkeit Gefahrensituationen entstehen. Neben dieser integrierten Ausstattung können die Bewohner weitere intelligente Produkte einbringen und so den Funktionsumfang individuell erhöhen.
Der gestalterische Ansatz des Projektes ist dem Universal Design verpflichtet. Im Universal Design werden Gebäude und Wohnungen ganz selbstverständlich so gebaut und eingerichtet, dass alle Menschen sie in möglichst vollem Umfang nutzen können. Future Living® Homes führt mit seiner Gestaltung zum positiven Wohnerlebnis für alle Bewohner.
Die intelligente Ausstattung wird auch für die Erschließung der Gebäude genutzt und gewährt den Bewohnern einfach, sicher und barrierefrei Zutritt in ihr Future Living® Homes. In Zusammenarbeit mit den Projektpartnern wird die intelligente Ausstattung geplant und realisiert. Sie wird gemeinsam mit den Bewohnern und derer Nutzungsdaten sinnvoll und nutzenorientiert weiterentwickelt um das Angebot stetig zu verbessern.
Future Living® Homes stands for multi-generational living quarters enabling different target groups to rent and experience smart apartments within the range of competitive rental fees.
Apartments are available starting with space efficient 1 room apartments up to generously sized 4 room apartments. Future Living® Homes is offering housing for singles, couples, families and flat-sharing communities for elderlies or students.
90 appartments in 6 double and two single residental towers are offering their residents an intelligent, pre-configured environment that can be individually adjusted by language or app. The environment supports daily life, increases comfort, safety and mobility and especially enables independent life at home up to a high age. The intelligent living environment based on actors (as light, speaker etc.) and sensors (as presence detection, door and window contacts) is integrated into the building.
Additionally, online services can be included to support residents in their individual daily routines: smart and unobtrusive. Time, brightness and presence can be analyzed to provide light always in the right quantity and quality. Even handicapped residents will easily be able to access light, water, access to doors etc. Furthermore acoustical or optical signals as automated security mechanisms will prevent dangerous situations for residents with restrictions in seeing or hearing. The tenants can expand their environment with further intelligent products to individually increase the functionality of their home.
The idea of the project is committed to Universal Design. This implies that buildings and flats are built and equipped in a way that they are usable for all residents in its entirety. So the composition of Future Living® Homes will lead to a positive living experience for all tenants.
Also the surroundings of the flats are intelligently equipped,providing a simple, save and barrier-free access for the residents into their Future Living® Homes. The smart equipment is planned and realized together with project partners. Together with the residents and the data about their usage of the components, Future Living®will continuously be improved.