Future Living® Dialog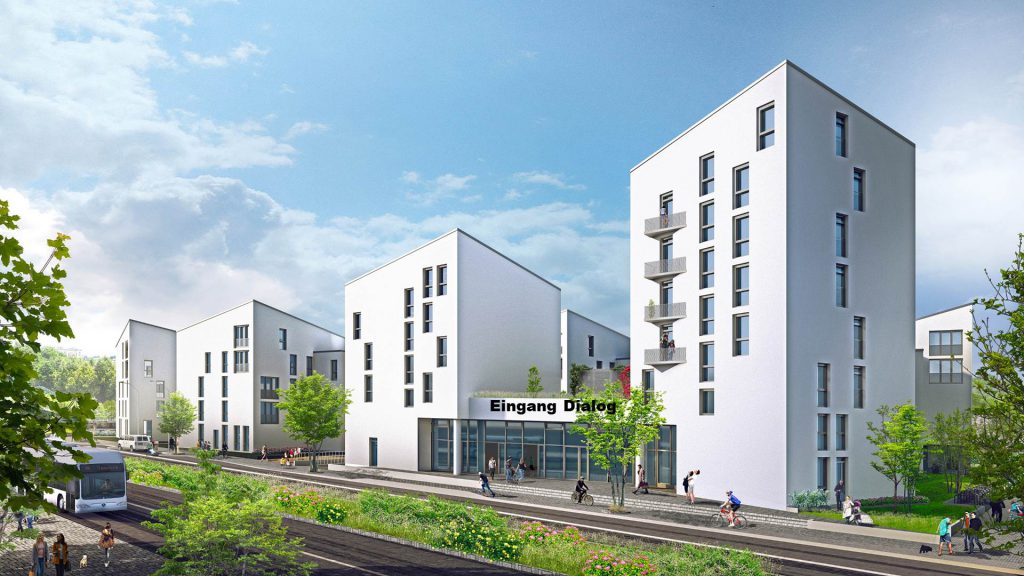 Future Living® Dialog verfolgt das Anliegen, für das Wohnen der Zukunft über die Grenzen des Projektes hinaus umfassend zu informieren, Begeisterung für das Thema Smart Home zu entfachen und Vorbehalten und Ängsten entgegenzuwirken. In diesem Sinne wird mit Future Living® Dialog an zentralem Ort auf dem Campus Raum für Information, Kommunikation und Austausch geschaffen.
Im Future Living® Dialog werden Veranstaltungen, Konferenzen und Ausstellungen stattfinden, in denen technologische Lösungen mit Bewohnern, Projektpartnern und Experten diskutiert und auch einer interessierten Öffentlichkeit präsentiert werden. Zentrale Themen wie Datenschutz, Alltagstauglichkeit und neue Anwendungsfälle werden hier informativ und anschaulich aufbereitet. Eine 3D-Power-Wall ermöglicht den virtuellen Rundgang durch die Wohnungen. Anhand eines Quartiermodells kann hier mit Augmented-Reality-Technik ein tiefer Einblick in die Funktionalitäten der Wohnungen gewonnen werden.
Ein Café dient den Bewohnern und Gästen als Treffpunkt und fördert Austausch und Interaktion.
Future Living® Dialog is aiming to inform about future living even above the boundaries of the project, to generate enthusiasm for themes as smart home andassisting technologies and to proactively address reservations and anxieties. Therefore a room for information, communication and exchange will be created at a central location at the Future Living® Berlin campus.
Future Living® Dialog will provide events, conferences and exhibitions to discuss technical solutions with residents, partners of the project and experts, and to present themes to an interested public. Central topics as data security, usability and new use cases will be provided informatively and vividly. A 3D Power Wall will allow virtual walks through the apartments. A model of the quarter combined with augmented reality technology will provide a deep insight into the apartment's functionalities.
A café as a meeting point will allow exchange between residents and guests and is providing interaction.