01.08.2019
DAIMLER und Bosch: Automatisierter Parkservice
DAIMLER and Bosch: Automated Valet Parking
Bosch und Daimler erhalten Zulassung für fahrerloses Parken
Ort des Geschehens: Mecedes-Benz-Museum in Stuttgart. Es hat ein Parkhaus, das mit einer intelligenten Parkhaus-Infrastruktur von Bosch ausgestattet ist. Bosch-Sensoren dabei überwachen den Fahrkorridor sowie dessen Umfeld und liefern die Informationen für die Steuerung von Fahrzeugen.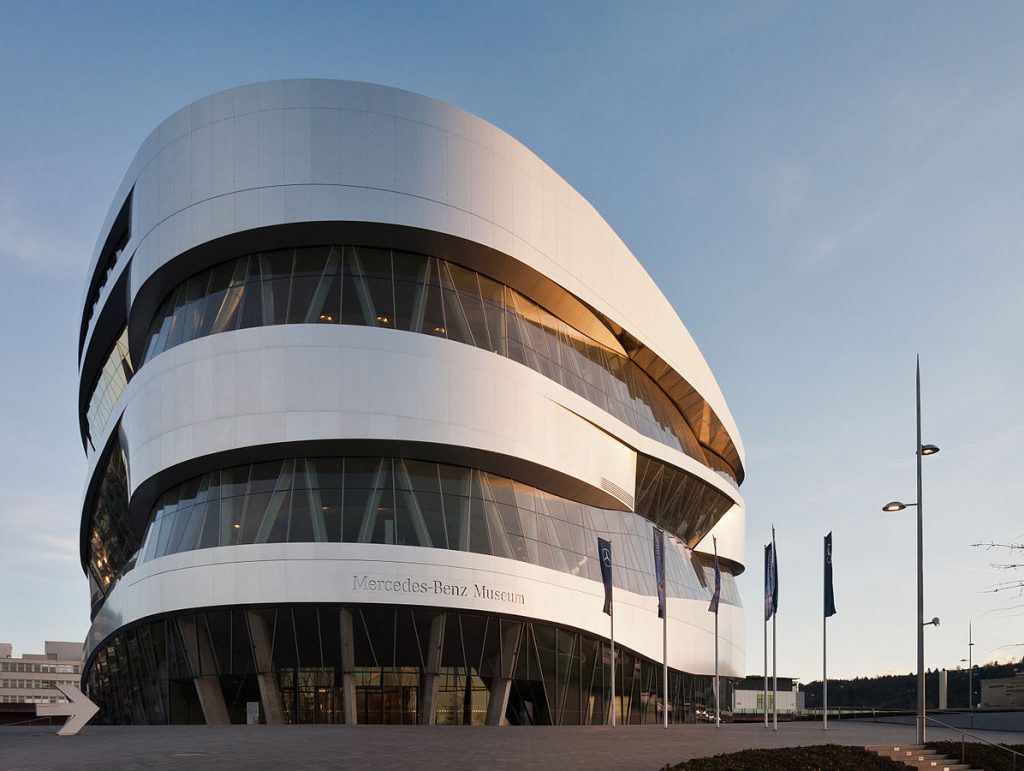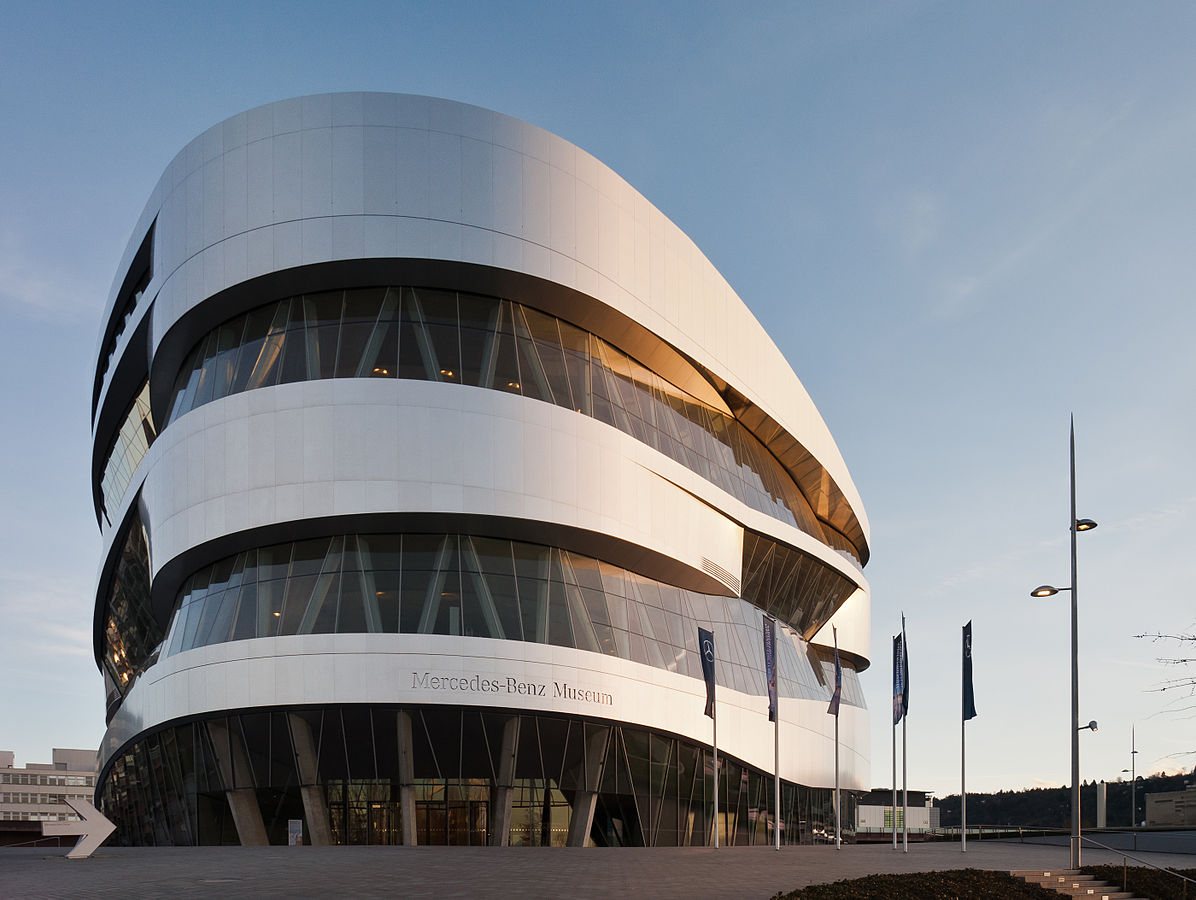 Mercedes Benz-Museum Stuttgart; Quelle: Julia Herzog
Objekte des Geschehens: Autos, die mit intelligenter Fahrzeugtechnik von DAIMLER ausgestattet sind. Diese setzt die Befehle der Infrastruktur in Fahrmanöver um. Auf diese Weise können Autos auch eigenständig Rampen hoch- und herunterfahren und innerhalb des Parkhauses Stockwerke wechseln. Erkennen die Infrastruktursensoren ein Hindernis, stoppen die Fahrzeuge unverzüglich.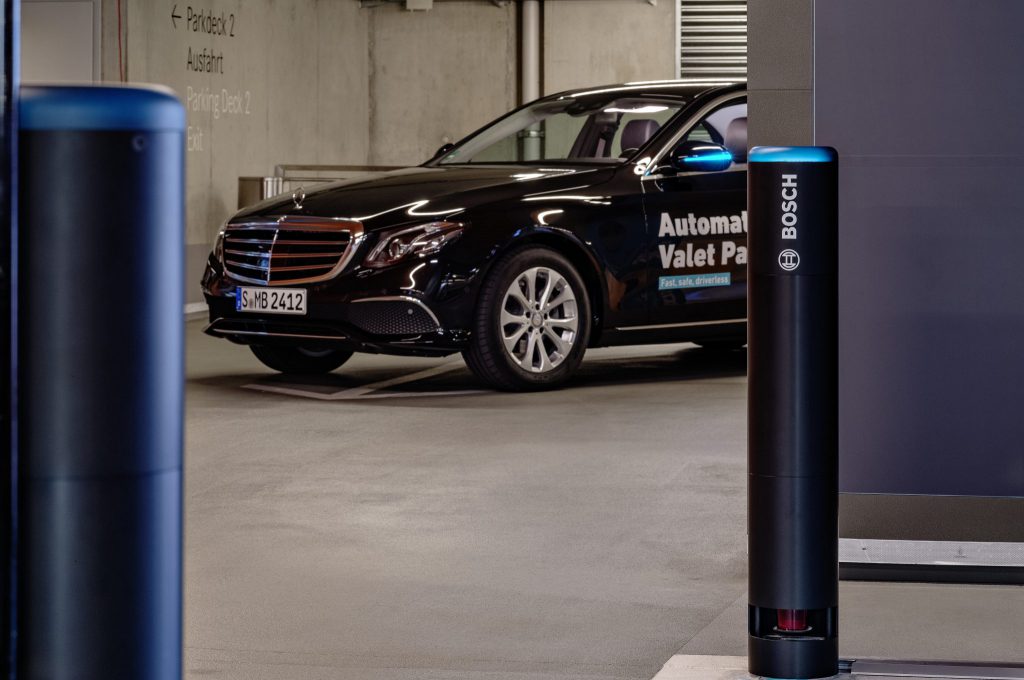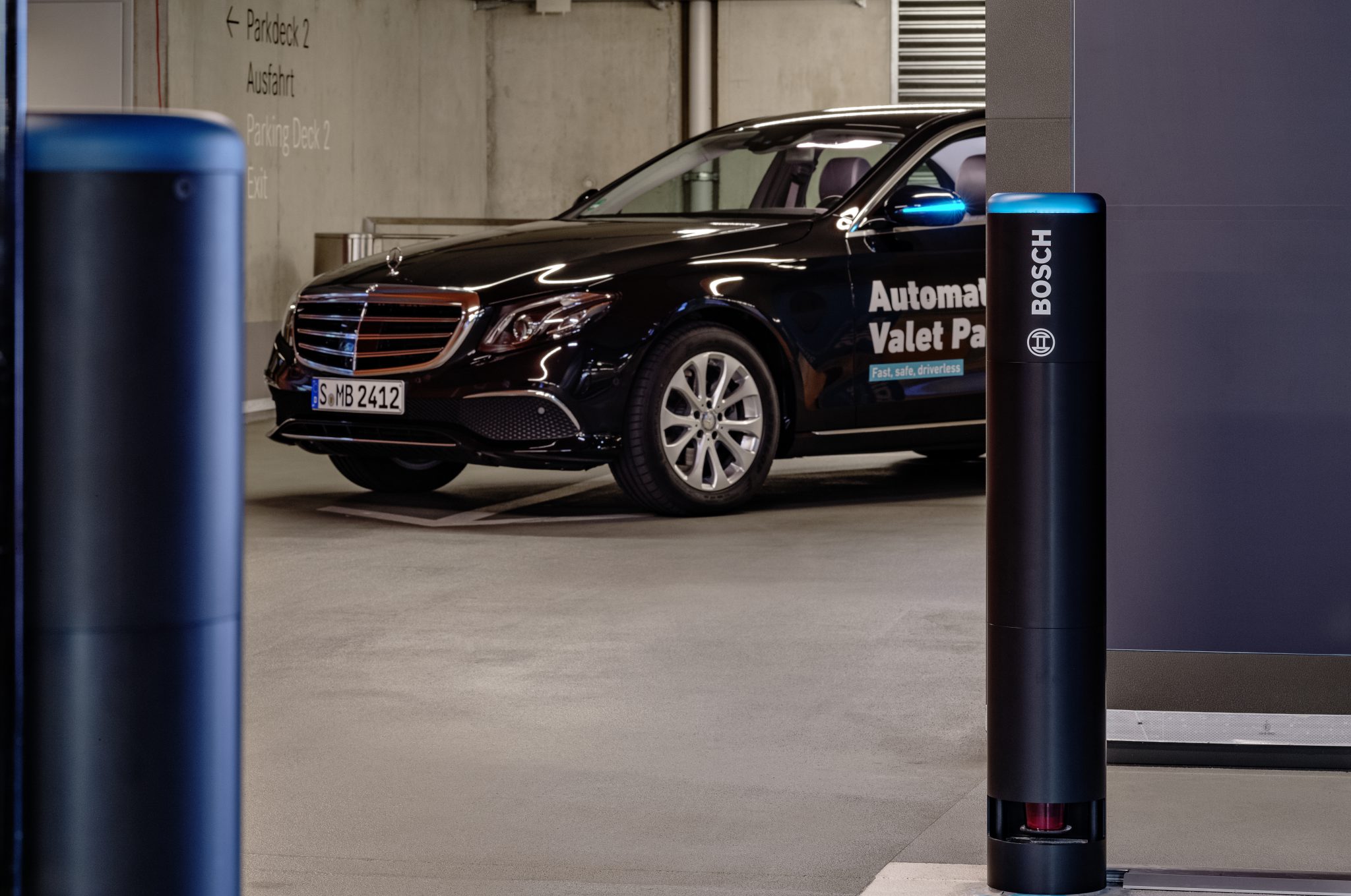 Automatisiert fahrende und mit der Parkhausinfrastruktur interoperiernde Fahrzeuge; Quelle: DAIMLER
Subjekte des Geschehens: Menschen, die ihre Fahrzeuge mit einem Klick auf ihr SmartPhone zum Einparken schicken, ohne sich Gedanken um kurvige Parkhausfahrten oder die hässlichen Streifen an deren Wänden machen zu müssen, sondern das Parkhaus verlassen und sich um sonstige Dinge kümmern können.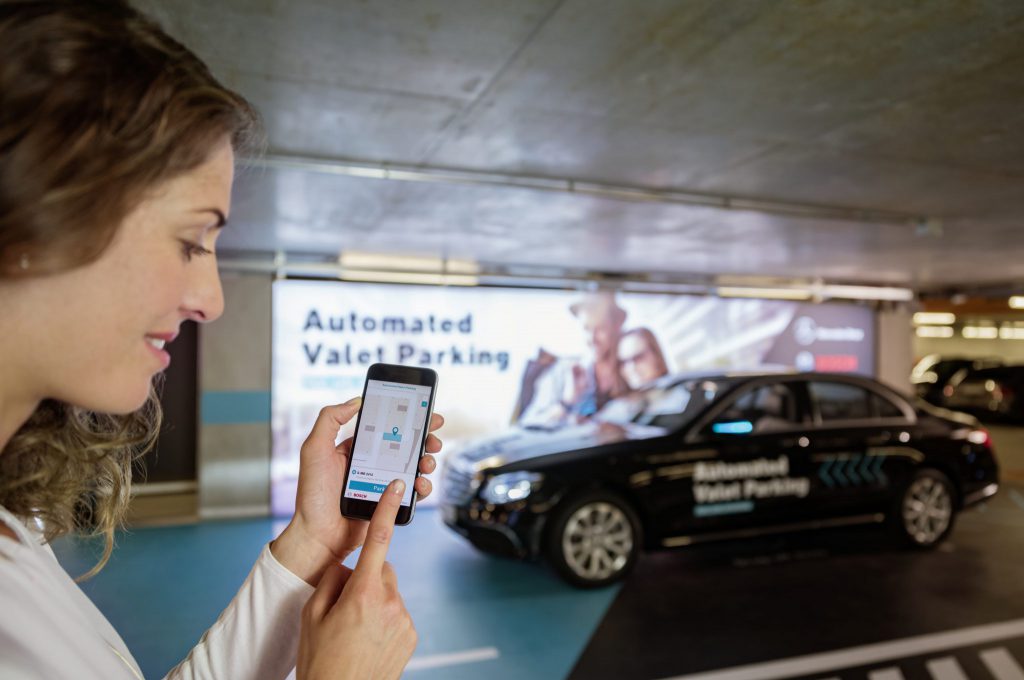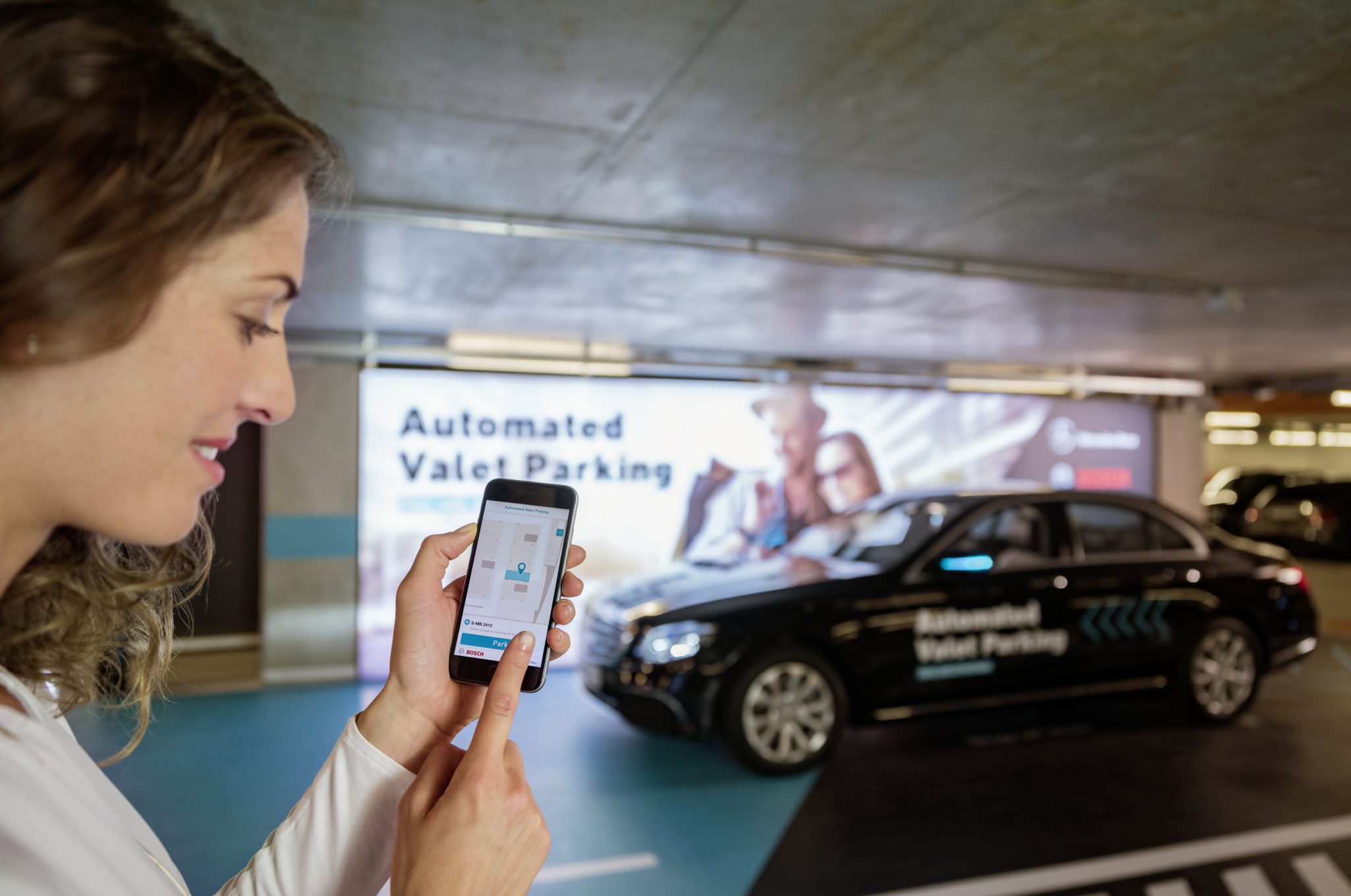 Menschen senden ihr Auto per SmartPhone zum Parken; Quelle: DAIMLER
Seit 2015 arbeiten DAIMLER und Bosch daran, das Szenario technisch umzusetzen. Je näher sie ihrem Ziel kamen, dieses nicht nur erfolgreich, sondern auch sicher zu gestalten, desto wichtiger wurde die frühe Einbindung des Regierungspräsidiums Stuttgart, des Landesverkehrsministeriums Baden-Württemberg sowie von Gutachtern des TÜVs Rheinland.
Für das automatisierte Parksystem im Parkhaus des Mercedes-Benz Museums in Stuttgart haben die beiden Unternehmen jetzt die Freigabe der zuständigen Behörden in Baden-Württemberg erhalten. Der automatisierte Vorfahr- und Einparkservice wird per Smartphone-App abgerufen und kommt ohne Sicherheitsfahrer aus. Er ist damit die weltweit erste behördlich für den Alltagsbetrieb zugelassene vollautomatisierte und fahrerlose Parkfunktion nach SAE Level 4 (1).
(1) Fahrerloses Fahren in einem geografisch abgegrenzten Gebiet fällt unter die Definition des Normvorschlags J 3016 des Ingenieursvereins Society of Automotive Engineers (SAE).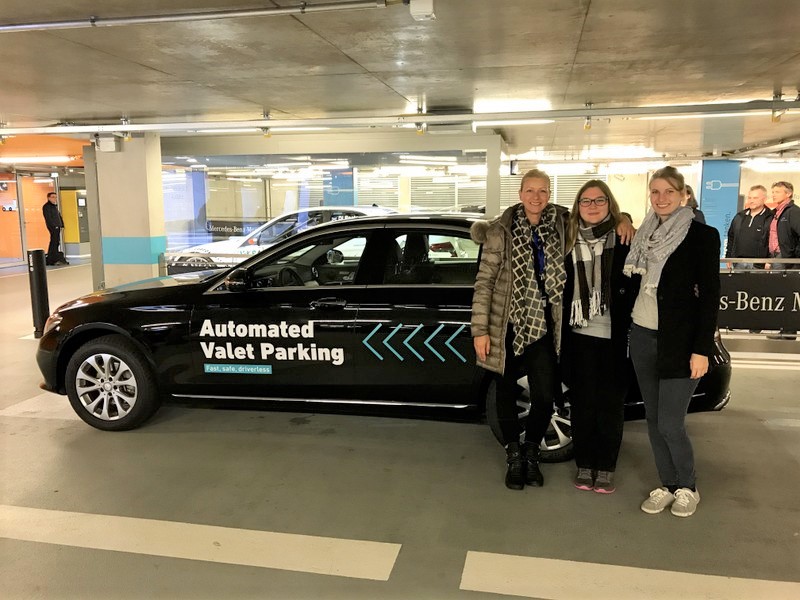 Beeindruckt und stolz zeigte sich auch das DAIMLER-Team, welches im Rahmen von Future Living® Berlin das Community CarSharing und digitale Angebote rund um die Mobilität entwickelt.
Bosch and Daimler get approval for driverless parking
Place of action: Mecedes-Benz Museum in Stuttgart. It has a parking garage equipped with an intelligent parking garage infrastructure from Bosch. Bosch sensors monitor the driving corridor and its surroundings and provide the information needed to control vehicles.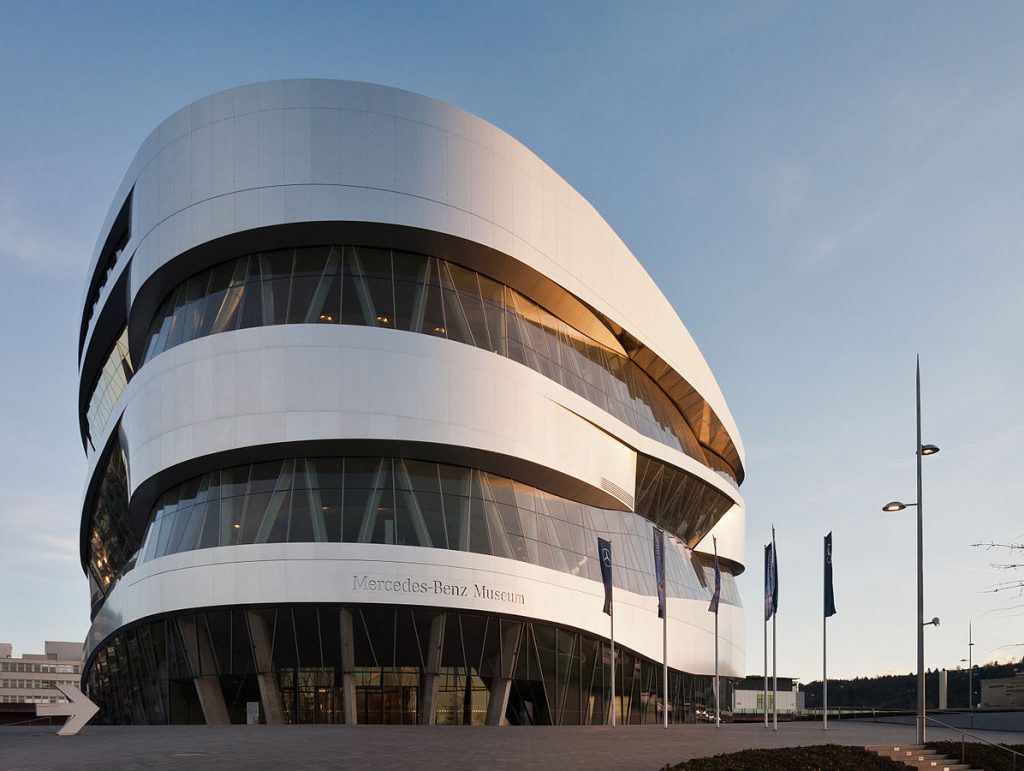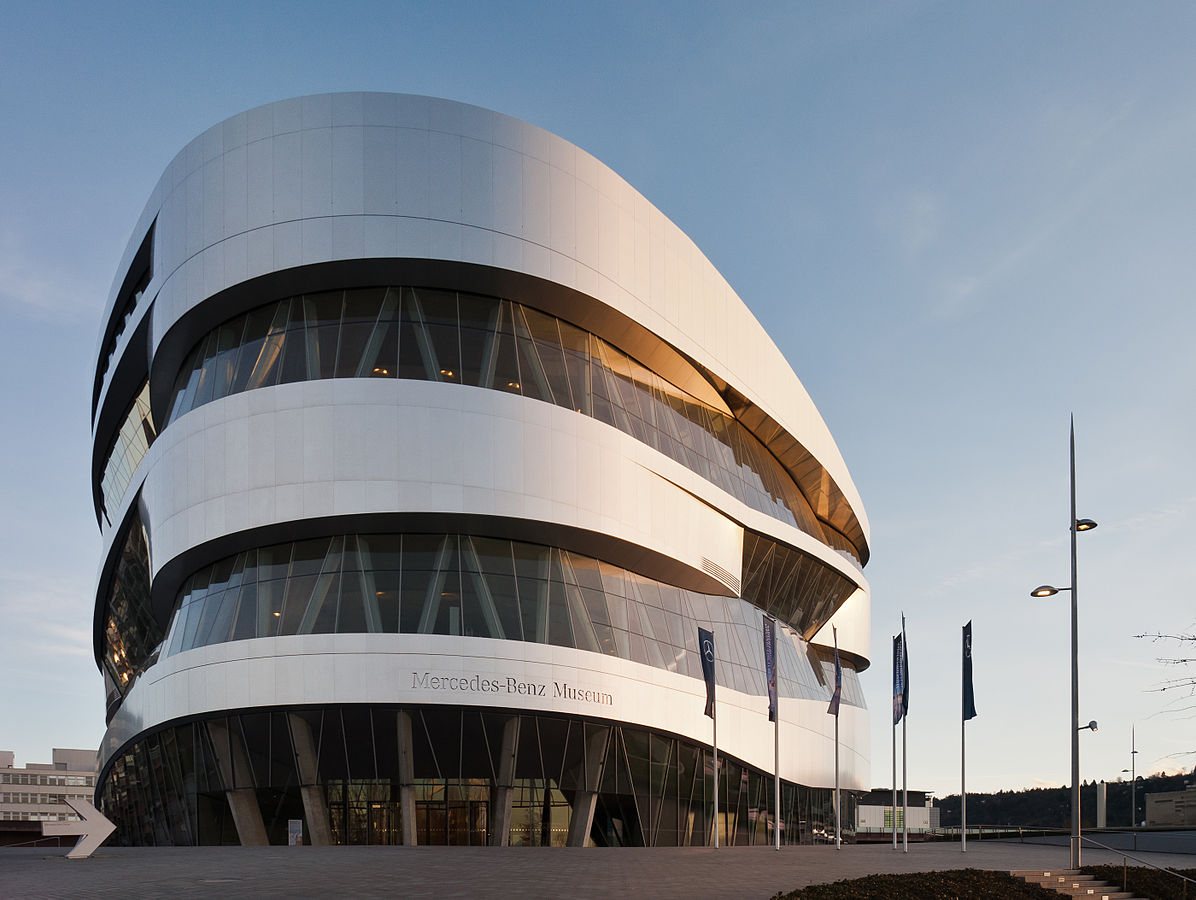 Mercedes Benz Museum Stuttgart; Source: Julia Herzog
Objects of the event: Cars equipped with intelligent vehicle technology from DAIMLER. This converts the commands of the infrastructure into driving maneuvers. In this way, cars can also drive up and down ramps independently and change floors within the parking garage. If the infrastructure sensors detect an obstacle, vehicles will stop immediately.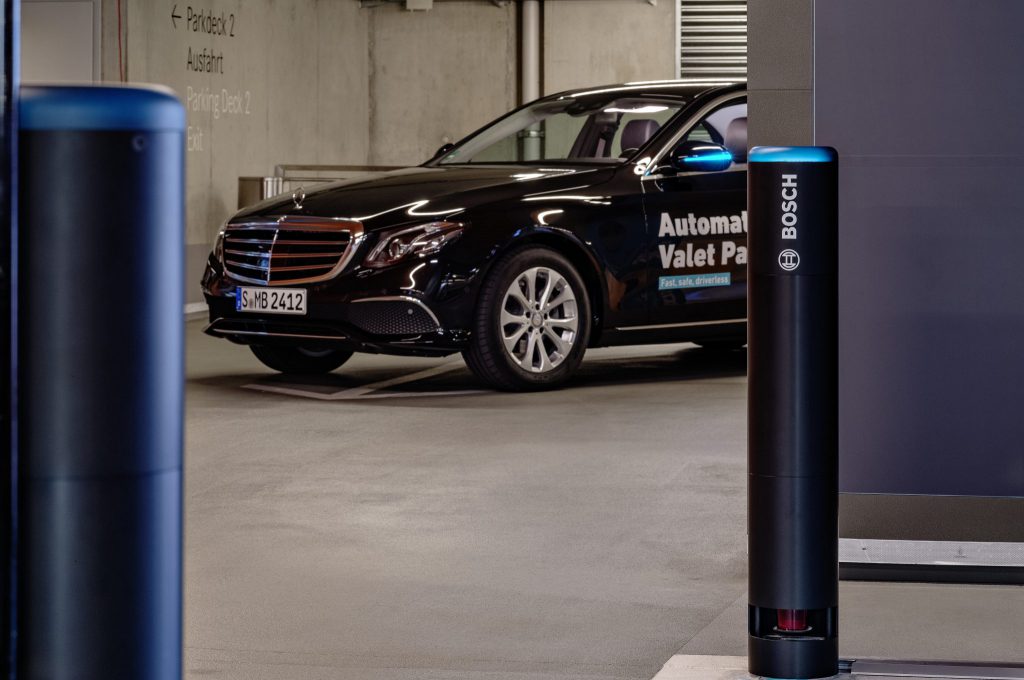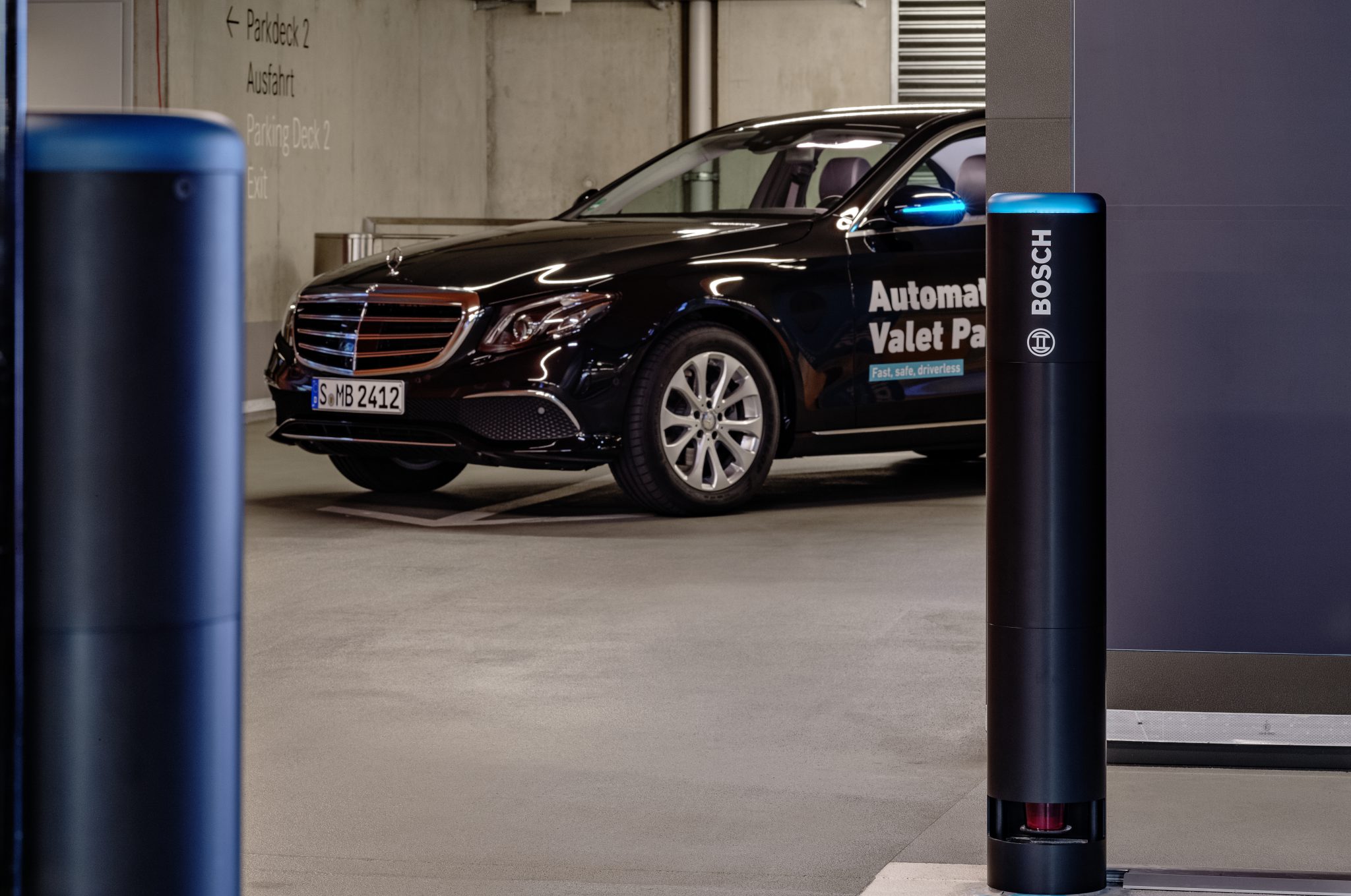 Automated vehicles that interoperate with the parking garage infrastructure; Source: DAIMLER
Subjects of action: People who send their vehicles to park with one click on their SmartPhone, without worrying about curvy rides in parking garages or the ugly stripes on their walls, but leave the parking garage and take care of other things.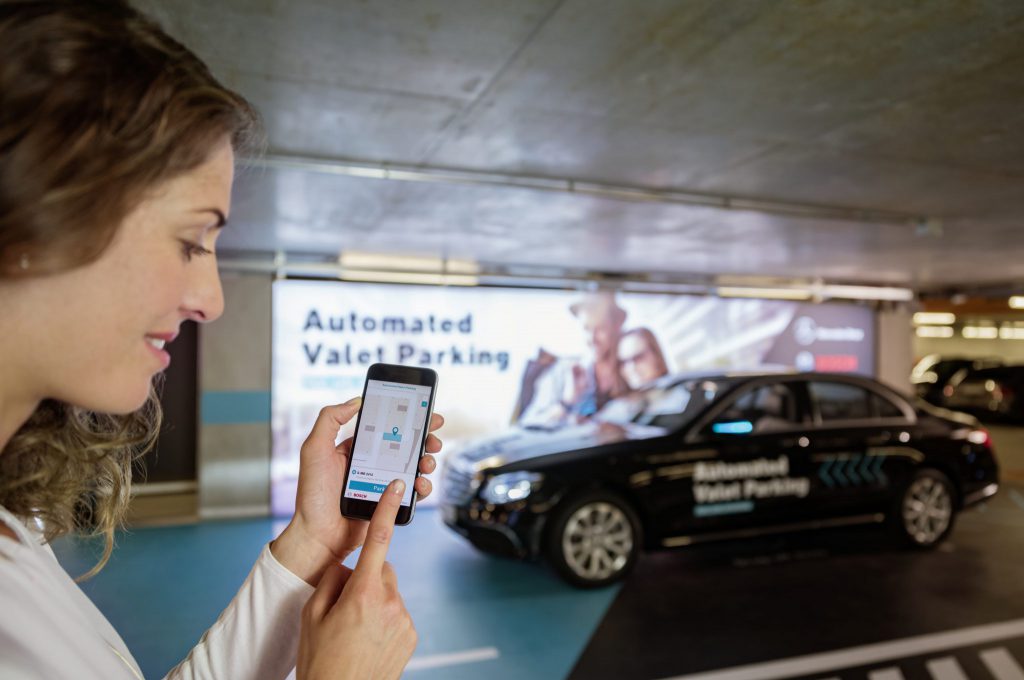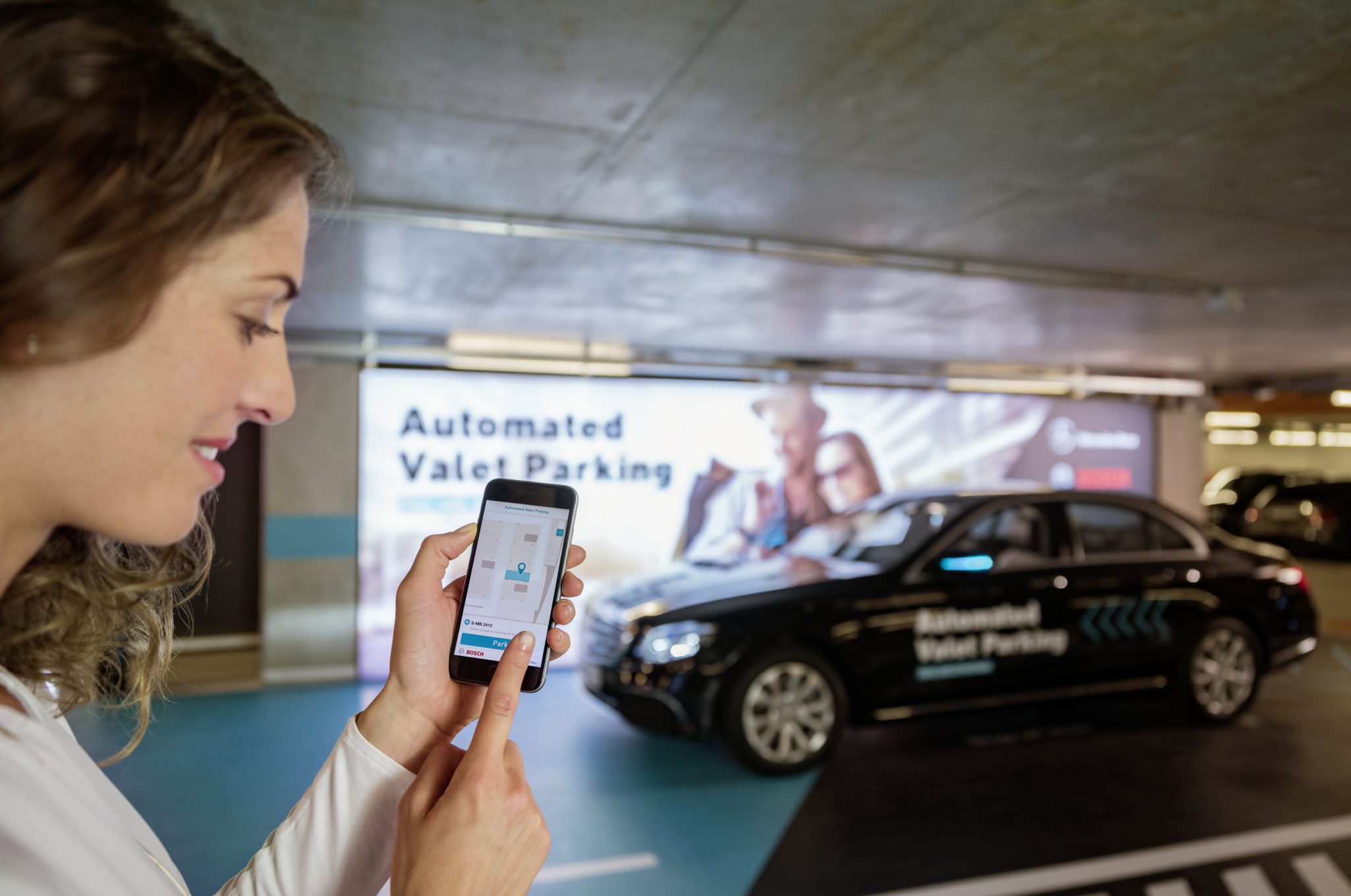 People send their car via SmartPhone for parking; Quelle: Source
Since 2015, DAIMLER and Bosch have been working on technically implementing the scenario. The closer they got to their goal of making this not only successful, but also secure, the more important was the early involvement of the Regional Council of Stuttgart, the Ministry of Transport of Baden-Württemberg and the experts of TÜV Rheinland.
For the automated parking system in the parking garage of the Mercedes-Benz Museum in Stuttgart, the two companies have now been approved by the competent authorities in Baden-Württemberg. The automated ancestor and parking service is accessed via smartphone app and does not require a security driver. This makes it the world's first fully automated and driverless SAE Level 4 park function approved for everyday use (1).
(1) Driverless driving in a geographically defined area falls within the definition of proposed standard J 3016 of the Society of Automotive Engineers (SAE) .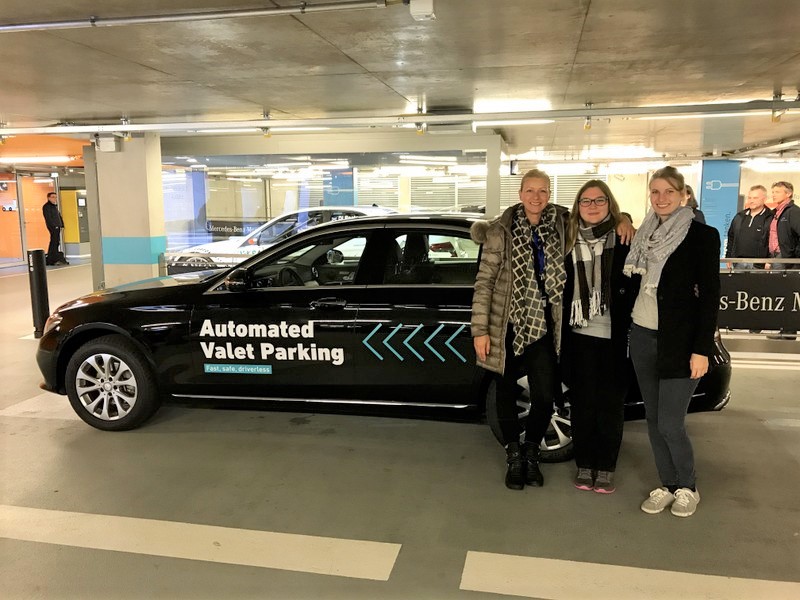 The DAIMLER team, which develops community car sharing and digital mobility services for Future Living® Berlin, was also impressed and proud.