22.06.2020
Oberflächenwasser-Management
Surface Water Management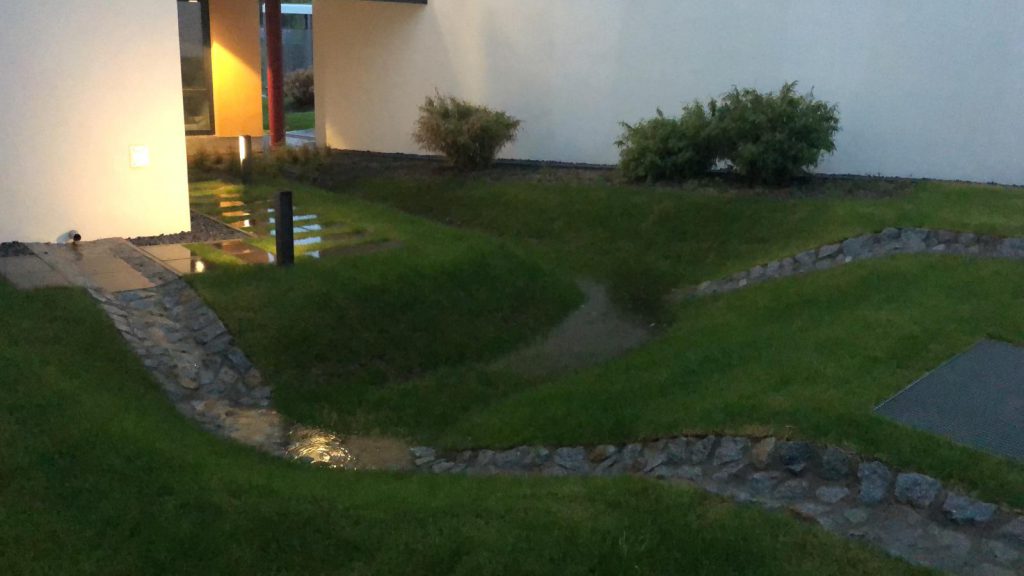 Im gesamten Bereich des "neuen" Berlin-Adlershof ist es nicht gestattet, Oberflächenwasser in die Kanalisation einzuleiten.
Wie ist das in Future Living® Berlin umgesetzt?
Das gesamte Gelände von Future Living® Berlin wurde so gestaltet, dass es eine Fließrichtung unterstützt.
Die Dächer der kleineren Türme sind mit einer extensiven Begrünung ausgestattet. Die Bepflanzung hält das Wasser zunächst auf den Dachflächen.


Begrüntes Dach

Von den großen Dächern mit ihren PV-Anlagen fließt das Wasser direkt über Rohre in dafür vorgesehene Versickerungsflächen.


Abfluss vom Dach in Rinne

In den Versickerungsflächen kann sich das Wasser ausbreiten und durch den sandigen Boden in den Untergrund abfließen.


Versickerungsfläche nach Starkregen

Versickerungsflächen gibt es zwischen den Häusern und um die Häuser herum.


Versickerungsfläche rund um die Häuser
In the entire area of the "new" Berlin-Adlershof it is not permitted to discharge surface water into the sewage system.
How is that implemented in Future Living® Berlin?
The entire area of Future Living® Berlin was designed in such a way that it supports a flow direction.
The roofs of the smaller towers are equipped with extensive greenery. The planting initially keeps the water on the roof surfaces.


Planted roof

From the large roofs with their PV systems, the water flows directly through pipes into the designated infiltration areas.


Water flows via drain pipes into gutters

The water can spread in the infiltration areas and flow into the subsoil through the sandy soil.


Infiltration area after heavy rain

Infiltration areas exist between and around the houses.


Infiltration aeras around houses