25.10.2019
DEKRA Award "Sicherheit zu Hause" für Future Living® Berlin
DEKRA Award "Safety at home" for Future Living® Berlin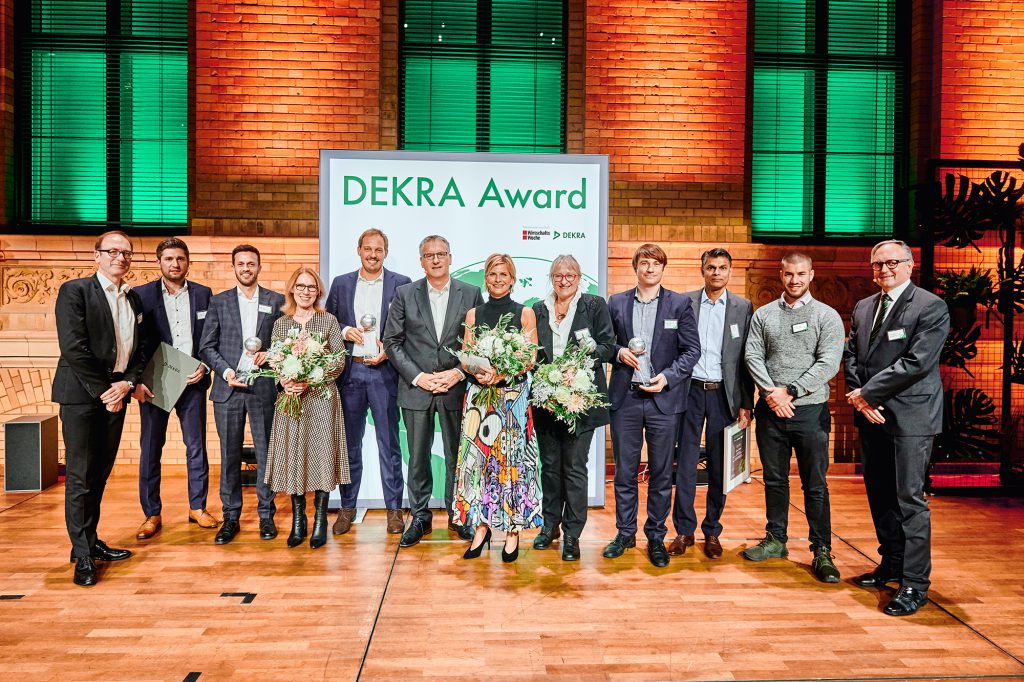 Beat Balzli (Wirtschaftswoche), Georg Widmaier (Bosch), Benjamin Reis (Linde Material Handling), Dr. Annette Niederfranke, Stefan Schneider (Bosch), Stefan Kölbl (DEKRA), Barbara Hahlweg (Moderatorin), Birgid Eberhardt (GSW), Benjamin Lieber (Serinus), Carlos Bhola (Crashtest Security), Felix Brombacher, Boris Böhme (BMWi); Quelle: DEKRA
Am 23. Oktober 2019 erhielt die GSW für ihre Präventions- und Sicherheitskonzepte für die Bewohner von Future Living® Berlin den DEKRA Award "Sicherheit zu Hause"
Die Jury begründete ihre Entscheidung damit, dass die GSW mit Future Living® Berlin "ein nachhaltiges und digitalisiertes Zuhause entwickelt und erfolgreich umgesetzt, das den aktuellen und künftigen Anforderungen gerecht wird".
Die Jury
Die Laudatio hielt Boris Böhme, Referatsleiter im Bundesministerium für Wirtschaft und Energie für Produkt und Anlagensicherheit. Er übergab Birgid Eberhardt, stellvertretend für alle an der Planung und Ausführung von Future Living® Berlin Beteiligten, den Pokal.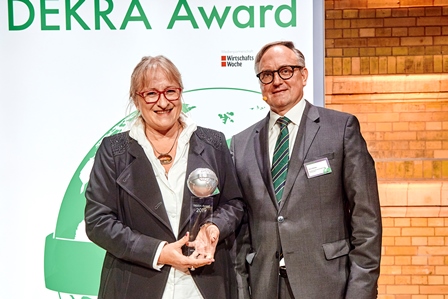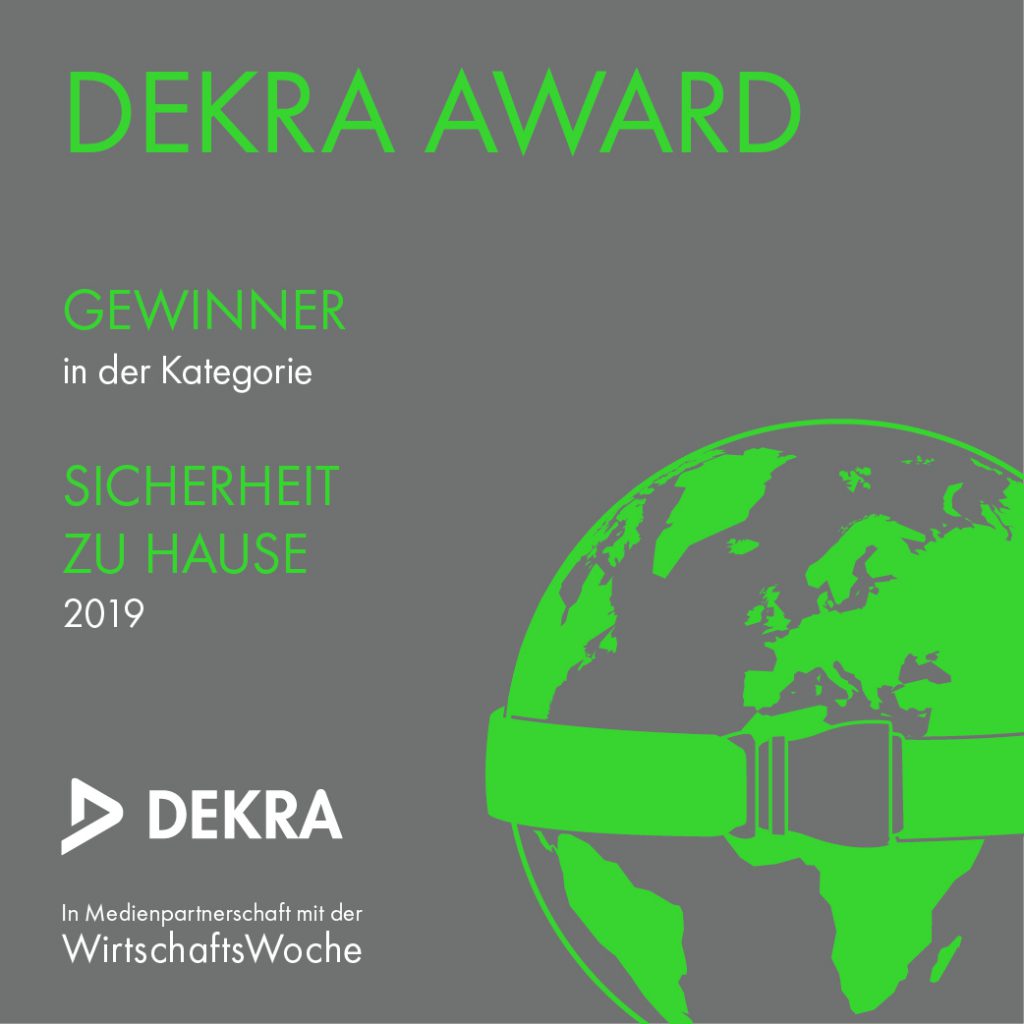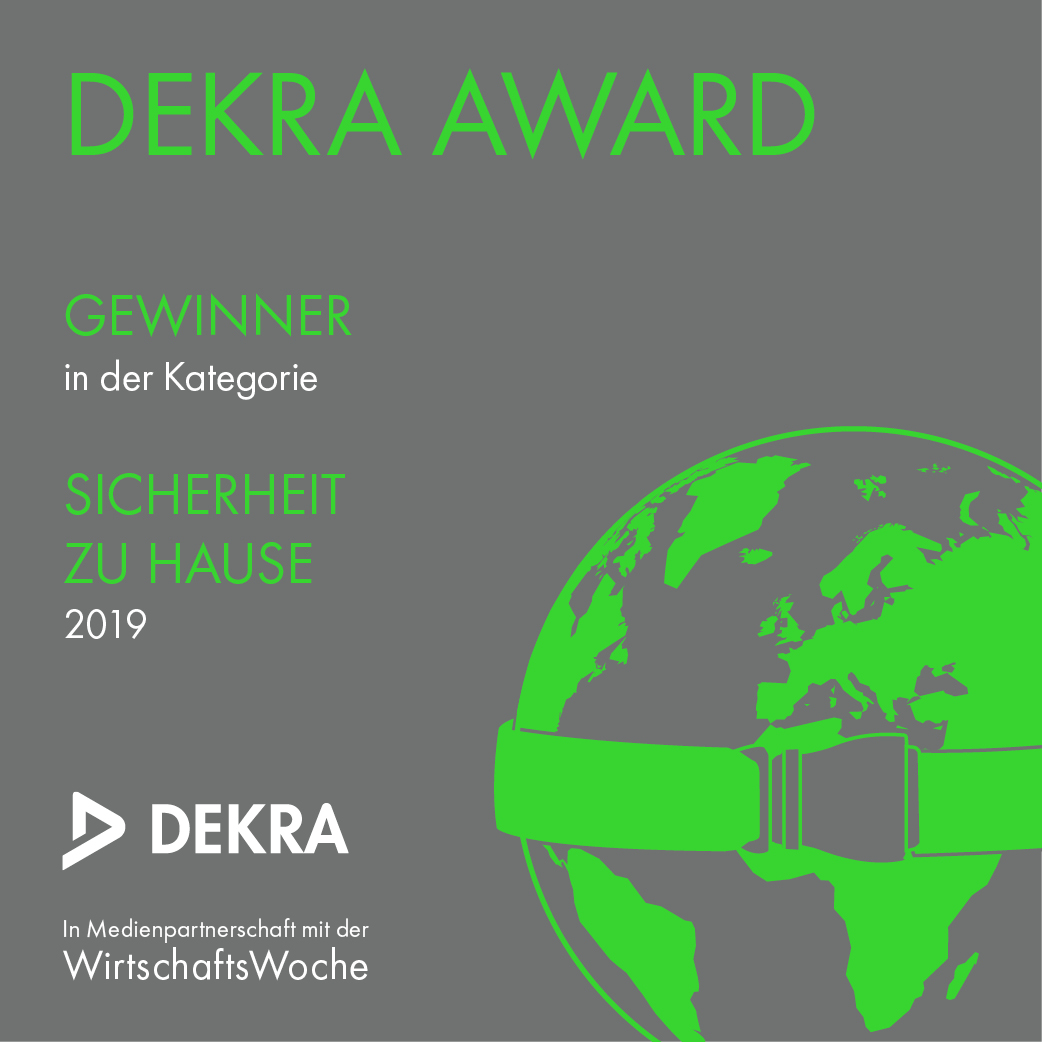 Wir freuen uns sehr, dass mit dem DEKRA Award für "Sicherheit zu Hause" einerseits unsere Ansätze für ein gutes und sicheres Leben in Future Living® Berlin gewürdigt werden und andererseits Future Living® Berlin als Ganzes wahrgenommen wird.
Da es auf Grund der Baustellensituation leider nicht möglich war, in Future Living® Berlin die Umsetzung direkt zu filmen, drehte das DEKRA Film-Team vergleichbare Funktionen und optionale Ausstattungsmöglichkeiten in der Musterwohnung der GSW in Waiblingen.
Ein großes Dankschön geht an PANASONIC und die Agentur Weltenangler, die es ermöglichten, für den Award-Film Teile ihres für die IFA erstellten Beitrags zu Future Living® Berlin zu verwenden!
Tolle Lösungen wurden auch in den anderen Kategorien des DEKRA Awards geehrt
Den Award in der Kategorie "Sicherheit bei der Arbeit" bekam die Linde Material Handling GmbH für eine Lösung, die das Zusammenspiel von Gabelstaplern und Personen sicherer gestaltet: Die Warnwesten von Menschen, die zu Fuß in Bereichen unterwegs sind, in denen sich Gabelstapler bewegen, kommunizieren mit Fahrzeugen in der Nähe. Fahrzeugführer und Fußgänger werden bei Annäherung automatisch aufeinander aufmerksam gemacht.
Den Award in der Kategorie "Sicherheit im Verkehr" bekam BOSCH für die Entwicklung eines ABS-Systems für Pedelecs, das verhindert, dass sich Pedelecs bei starken Bremsvorgängen unkontrolliert verhalten. Stürze vom Pedelec können hierdurch verhindert werden.
In der 2019 erstmalig vergebenen Kategorie "Startups" entschied das anwesende Publikum durch live-Abstimmung, den Preis der Firma Serinus für ihr smartes Krisen-Management-System zu vergeben.
Siehe auch: Verleihung des DEKRA Awards 2019
Beat Balzli (Wirtschaftswoche), Georg Widmaier (Bosch), Benjamin Reis (Linde Material Handling), Dr. Annette Niederfranke, Stefan Schneider (Bosch), Stefan Kölbl (DEKRA), Barbara Hahlweg (Moderatorin), Birgid Eberhardt (GSW), Benjamin Lieber (Serinus), Carlos Bhola (Crashtest Security), Felix Brombacher, Boris Böhme (BMWi); Source: DEKRA
On October 23, 2019, GSW received the DEKRA Award for "Safety at Home" for its prevention and safety concepts for the residents of Future Living® Berlin
The jury based its decision on the fact that with Future Living® Berlin GSW has "developed and successfully implemented a sustainable and digitized home that meets current and future requirements".
See: Jury
The laudatory speech was given by Boris Böhme, Head of Unit for Product and Plant Safety at the Federal Ministry for Economic Affairs and Energy. He handed over the trophy to Birgid Eberhardt, representing all those involved in the planning and execution of Future Living® Berlin.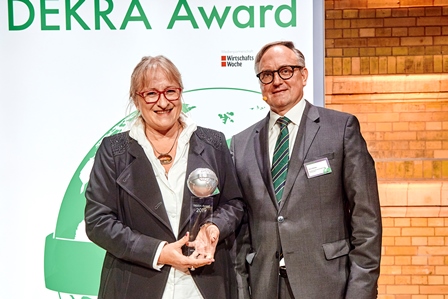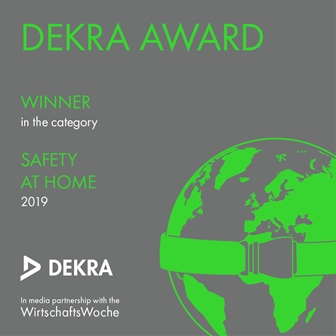 We are delighted that the DEKRA Award for "Safety at Home" acknowledges our approach to a good and safe life in Future Living® Berlin and perceives Future Living® Berlin as a whole.
Unfortunately, due to the construction site situation, it was not possible to film the realization directly in Future Living® Berlin, so the DEKRA film team took comparable functions and optional equipment options in the model apartment of the GSW in Waiblingen.
A big thankyou goes to PANASONIC and the agency Weltenangler, which allowed to use parts of their IFA production about Future Living® Berlin for the award film!
Film about the DEKRA Award (english titels)
Great solutions have also been honored in the other categories of the DEKRA Award
The award in the category "Safety at work" was given to Linde Material Handling GmbH for a solution that makes the interaction between forklift trucks and people safer: the safety vests for people who walk in areas on the move where forklifts move communicate with vehicles nearby. Car drivers and pedestrians are automatically alerted when approaching.
BOSCH received the Award in the category "Safety in Traffic" for the development of an ABS system for pedelecs, which prevents pedelecs from behaving uncontrollably during heavy braking. This can prevent falls from the pedelec.
In the category "Startups" , which was awarded for the first time in 2019, the audience decided by live vote to award the prize to Serinus for their smart crisis management system.
See also: DEKRA Award 2019