13.08.2019
Design für alle – Smarter Mülleinwurf
Design for All - Smart Waste Throw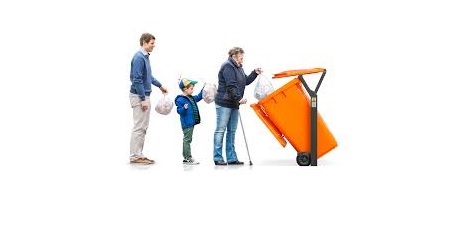 Design für Alle
"Design für Alle ist ein Konzept für die Planung und Gestaltung von Produkten, Dienstleistungen und Infrastrukturen, mit dem Ziel, allen Menschen deren Nutzung ohne individuelle Anpassung oder besondere Assistenz zu ermöglichen. Konkret sind damit Lösungen gemeint, die besonders gebrauchsfreundlich und auch bei individuellen Anforderungen, z.B. aufgrund des Alters oder einer Behinderung, benutzt werden können. Das Konzept berücksichtigt dabei, dass die Design-für-Alle-Lösungen von den Konsumenten als komfortabel und attraktiv wahrgenommen werden." So beschreibt es der Verein EDAD "Design für Alle – Deutschland e.V.", das Kompetenznetzwerk für barrierefreie Lösungen, die für alle attraktiv gestaltet sind.
Mehr Informationen zu EDAD
Future Living® Berlin und Design für Alle
Future Living® Berlin ist nach dem Design für Alle-Konzept geplant, um ein generationenübergreifendes Wohnen zu erlauben, das alle Haushaltstypen unterstützt. Junge und Alte, Alleinstehende, Paare und Familien, große und kleine Menschen sollen sich gleichermaßen wohlfühlen.
Der smarte Mülleinwurf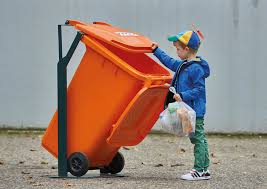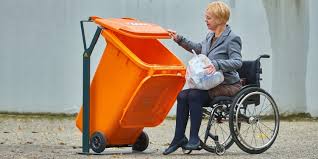 Bildquelle: BSR Berliner Stadtreinigung


Mit dem Einwurfhelfer arc32, einer Entwicklung der Berliner Stadtreinigung, wird der Mülleinwurf in die großen 240 Liter-Tonnen auch für Rollstuhlfahrer, Menschen mit Gehhilfen, kleine oder ältere Personen einfach. Denn der arc32 neigt diese Tonnen um 32 Grad nach vorn. Somit wird die Einwurfhöhe auf das barrierefreie Maß von unter 85 cm reduziert. Die Deckel lassen sich leicht mit einer Hand hochschieben und wieder verschließen.

In Future Living® Berlin gibt es kurze Wege bis zur Müllentsorgung. Und an allen Stellen finden sich auch Tonnen, die sich im Sinne von "Design für Alle" bedienen lassen.

Hier finden Sie einen Film, der das Produkt erklärt: arc32 von BSR

Verganges Jahr gewann die BSR mit dem Produkt arc32 übrigens den renommierten ICONIC AWARDS 2018 für "Innovative Interior".
Design for All
"Design for All is a concept for the planning and design of products, services and infrastructures, with the aim of making it possible for all people to use them without individual adaptation or special assistance, meaning in particular solutions that are specially user-friendly and also meet individual requirements eg due to age or disability. The concept takes into account that the design-for-all solutions are perceived by consumers as comfortable and attractive. " This is how the association EDAD "Design for All – Germany e.V.", the competence network for barrier-free solutions that are designed for everyone, describes it.
More informationen about EDAD
Future Living® Berlin and Design for All
Future Living® Berlin is designed according to the Design for All Concept to allow intergenerational living that supports all household types. Young and old, singles, couples and families, big and small people should feel equally comfortable.
Smart Waste Throw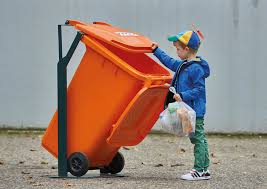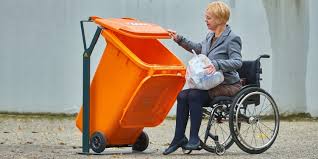 Source of Images: BSR Berliner Stadtreinigung (Berlin City Cleaning Organisation)


With the throw-in helper arc32, a development of the BSR Berliner Stadtreinigung (Berlin City Cleaning Organisation), the garbage throw into the large 240-liter tons also for wheelchair users, people with walking aids, small or elderly people is easy, because the arc32 tilts these tons forward by 32 degrees. Thus, the throw-in height is reduced to the barrier-free dimension of less than 85 cm. The lids can be easily pushed up and closed with one hand.

There are short ways to waste disposal in Future Living® Berlin. And in all places there are also tons that can be used in the sense of "Design for All".

Here a film that will show you arc32 from BSR

Incidentally, BSR won with the arc32 product last year the renowned ICONIC AWARDS 2018 for "Innovative Interior".