01.10.2019
Nominierung für DEKRA Award "Sicherheit zu Hause"
Nomination for DEKRA Award "Safety at home"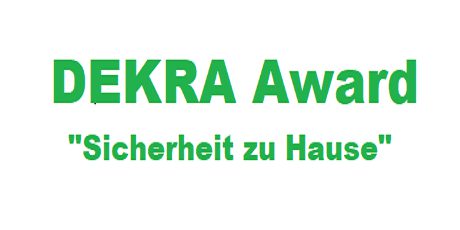 Am 7. August 2019 hatte sich die GSW für den DEKRA Award "Sicherheit zu Hause" beworben.
Gesucht wurden Konzepte, Initiativen und Maßnahmen, mit denen zur Prävention von Unfällen innerhalb des Haushalts oder im unmittelbaren Umfeld beigetragen wird. Als Beispiele wurde genannt: Vorbeugung vor mechanischen Risiken vor, um Feuergefahren zu mindern, oder Aufmerksammachen auf Sicherheitsrisiken und Lösungsmöglichkeiten aufmerksam.
Gesucht wurden Unternehmen, Organisationen, Initiativen und Einzelpersonen, die im Bereich "Sicherheit zu Hause" Herausragendes in einem der folgenden Themenbereiche leisten:
Prävention von Unfällen innerhalb der Wohnung
Prävention von Unfällen im unmittelbaren Umfeld der Wohnung
Brandschutz
Gesundheitsrisiken
Zielgruppe besonders Schutzbedürftiger
Kampagnen und Initiativen
Im Zentrum unserer Bewerbung standen die geplanten präventiven Massnahmen und das Erkennen von Unregelmäßigkeiten, die auf Notfälle hinweisen können, durch die Smart Home-Ausstattung der Wohnungen und Gebäude von Future Living® Berlin.
Beschrieben wurde die Möglichkeit,
nachts durch Lichtautomationen sicher Wege in der Wohnung zurücklegen zu können
dass alleine lebende Personen ein Aktivitätsmonitoring aktivieren und dabei festlegen können, wer informiert werden soll, falls die Wohnung davon ausgeht, dass jemand anwesend ist, es aber keine Bewegung, keinen Stromverbrauch etc. gibt, d.h. ggfs. ein Notfall vorliegt.
dass im Falle einer Rauchdetektion die Rauchwarnmelder nicht nur untereinander vernetzt sind, sondern sie auch mit der Smart Home-Ausstattung interagieren (inklusive smarter Lautsprecher und smarter Fernseher): Rollos werden hochgefahren, das Licht beginnt zu blinken, laufende Programme auf dem Lautsprecher und Fernsehen werden leise gestellt und über deren Lautsprecher die Alarme der Rauchwarnmelder verstärkt
sowohl an der Haustür als auch die Wohnungstür über intallierte Kameras auf dem Tableau in der Nähe der Tür oder über eine App zu sehen, wer klingelt und vor der Tür steht
Das Besondere ist, das die vorgestellten Use Cases durch das in Future Living® Berlin gelungene Zusammenspiel aus Smart Building (Aufzüge und Türkommunikation) unserer Partner Schindlers mit der Smart Home-System von digitalSTROM und dem smarten Fernseher von PANASONIC möglich werden.
Inzwischen haben wir die Mitteilung bekommen, dass wir mit den Konzepten für Future Living® Berlin für den DEKRA Award "Sicherheit zu Hause" nominiert sind!
On August 7, 2019, GSW applied for the DEKRA Award "Safety at Home". The focus of the application was the planned preventive activities and the detection of irregularities, which can indicate emergencies, through the smart home equipment of the apartments and buildings of Future Living® Berlin.
Described were the possibilities
to be able to walk safely in the apartment at night through light automation
that individuals living alone can activate activity monitoring and determine who should be informed if the home assumes that someone is present but there is no movement, no power consumption, etc. – and, maybe, an emergency occured.
that in the case of smoke detection, the smoke detectors are not only networked with each other, but also with the smart home equipment (including smart loudspeakers and a smart TV). In Case of an alarm blinds are raised, the light starts flashing, running programs on the loudspeaker and TV are turned down, and the alarms of the smoke detectors are amplified through their loudspeakers
to see who is ringing and standing in front of the door as well at the house entrance door as the apartment entrance door over the cameras on the panel near the door or via an app
The specialty of the presented use cases in Future Living® Berlin are made only possible by the successful combination of Smart Building (lifts and door communication) from our partners Schindlers with the Smart Home system from digitalSTROM and the smart TV from PANASONIC.
Meanwhile, we have received the message that are nominated with the concepts for Future Living® Berlin for the DEKRA Award "Safety at Home"!