14.01.2020
Offizielle Vermietung der Wohnungen hat begonnen
Rental of apartments has officially begun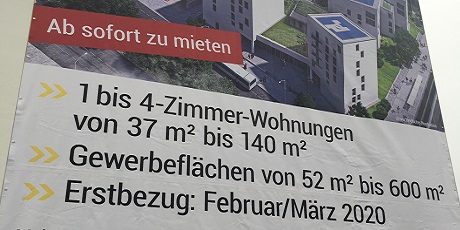 Bereits Ende des Jahres waren alle diejenigen, die im Laufe der Bauzeit zufällig oder durch die Berichterstattung auf Future Living® Berlin aufmerksam geworden waren und ihr Interesse bekundet hatten, durch unsere Kollegen in der Vermietung angeschrieben worden. Sie bekamen, wie versprochen, Informationen zu den Wohnungen und die Möglichkeit, vorab Wohnungen anzuschauen und ggfs. auszuwählen.
Etwas später wurden Wohnungen über Internetportale angeboten.
Seit Januar informiert das ergänzte Bauschild Menschen, die an der Baustelle vorbeikommen, über Ansprechpartner für die Vermietung von Wohnungen und Gewerbeflächen. Haben auch Sie Interesse? Ihr Anprechpartner ist Vladislav Rerich. Sie erreichen ihn unter seiner Mobilfunknummer 0173-7298762 oder per Mail unter v.rerich@gsw-sigmaringen.de.
Already at the end of the year, all those who had already become aware of Future Living® Berlin and expressed their interest had been contacted by our colleagues in the rental department. As promised, they were given information about the apartments and the opportunity to view apartments in advance and select them if wished.
Little later apartments were offered via internet portals.
Since January, the supplemented construction sign has been informing people who come past the construction site about contacts for the rental of apartments and commercial space. Are you also interested? Your contact person is Vladislav Rerich. You can reach him on his mobile number 0173-7298762 or by email at v.rerich@gsw-sigmaringen.de.