19.08.2019Partnertreffen bei Daimler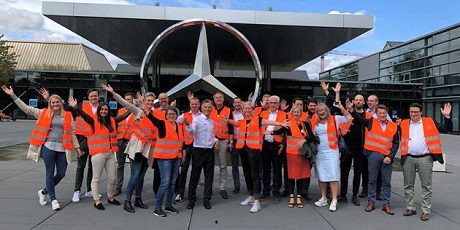 PartnerGet2Gether bei Daimler in Sindelfingen
Betriebsbesichtigung
Am 15. August 2019 traf sich das Partnernetzwerk auf Einladung von Daimler in deren Kundencenter in Sigmaringen. Die Betriebsführung zeigte eindrucksvoll, wie weit die Digitalisierung in der Fahrzeugproduktion bereits fortgeschritten ist und dabei unterstützt, Fahrzeuge kundenspezifisch in einer Produktionsstraße in Kooperation von Robotern und Menschen zu fertigen.
Mobilität der Zukunft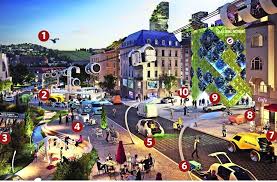 Im Anschluß zeigte Prof. Dr. Marianne Reeb auf, wie sich der Verkehr bis 2035 in den Städten entwickeln könnte. Denkbar sind Mobilitätshubs, die unterirdisch (Tunnel), auf Straßenniveau (autonome und e-Mobile, e-scooter) und überirdisch (Seilbahnsysteme, Drohnen) nicht nur den Personentransport, sondern auch Anlieferungen konzentrieren. Autonome Fahrzeuge erkennen ihre Umgebung und übernehmen Funktionen, die heute fest in der Stadt verbaut sind: wollen Menschen die Straße überqueren, hält das Fahrzeug und signalisiert durch einen projizierten Zebrastreifen, dass dies gefahrlos möglich ist. Ampeln und Zebrastreifen werden überflüssig.
Future Living® Berlin: Update und nächste Schritte
Im Anschluß wurden alle auf den aktuellen Stand des Baufortschritts von Future Living® Berlin gebracht, Ideen insbesondere für den Dialog-Bereich besprochen, TODOs abgestimmt, anstehende Termine durchgegangen.
Noch diesen Monat wird eine Testwohnung fertiggestellt
Der Vermietungsprozess startet voraussichtlich im September
Future Living® Berlin findet sich während der IFA auf dem Stand von Panasonic und in der IFA-Next
PartnerGet2Gether at Daimler in Sindelfingen
Factory Tour
On August 15, 2019, the partner network met on invitation of Daimler in their customer center in Sigmaringen. The factory tour impressively demonstrated how far digitization has already advanced in vehicle production and how it supports manufacturing customized vehicles in one production line in cooperation of robots and people.
Mobility of the Future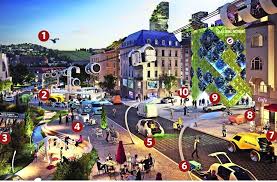 Afterwards, Prof. Dr. Marianne Reeb pointed out how traffic could develop in cities until 2035. Conceivable are mobility hubs, which focus underground (tunnels), at street level (autonomous and e-mobile, e-scooter) and above-ground (cable car systems, drones) not only passenger transport, but also deliveries. Autonomous vehicles recognize their surroundings and take over functions that are firmly anchored in the city today: when want people to cross the street, vehicle stop automaticially and signal through a projected pedestrian crossing that this is possible without danger. Traffic lights and crosswalks become superfluous.
Future Living® Berlin: Update and next steps
Afterwards everyone was brought up-to-date with the progress of construction of Future Living® Berlin, ideas were discussed in particular for the dialogue area, TODOs were coordinated, upcoming events were gone through.

A test apartment will be completed this month
The letting process is expected to start in September
Future Living® Berlin will be on the Panasonic booth and IFA Next during IFA