11.11.2019
Smart Home-Geräte im Eigenheim
Smart Home Devices in Owned Homes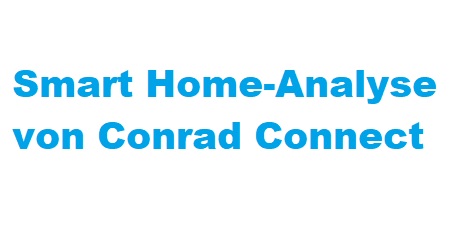 Conrad Connect veröffentlichte eine Auswertung von registrierten Smart Home-Geräten mit Stand vom Oktober 2019. Hierzu wurde eine anonymisierte Stichprobe mit 192.593 der insgesamt mehr als 500.000 registrierten Geräten der Plattform ausgewertet. Verschiedenen Internetportale wiesen auf diese Analyse hin (siehe unten).
Die Analyse ergab, dass in der Stichprobe Leuchtmittel und Wetterstationen die beliebtesten Geräte waren, gefolgt von Fernbedienungen, Heizungssteuerungen und Geräten, die dem Thema Sicherheit zuzuordnen sind. 34% aller analysierten Geräte gehörten der Kategorie Licht an.
Siehe hierzu die Analyse auf Conrad Connect
Aus den Beiträgen ging auch hervor, dass
Conrad Connect-Kunden vor allem Privatkunden in Eigenheimen sind.
In Frankfurt – gefolgt von München und Hamburg – mit mehr als 25.000 die meisten smarten Geräte registriert waren.
Webseiten, welche die Auswertung aufgreifen:
Conrad Connect published an evaluation of registered smart home devices as of October 2019. For this purpose, an anonymous sample of 192,593 of the more than 500,000 registered devices on the platform was evaluated. Various Internet portals pointed to this analysis (see below).
The analysis revealed that the most popular devices were bulbs and weather stations in the sample, followed by remote controls, heating controls, and safety-related devices. 34% of all analyzed devices belonged to the category light.
See the analysis on Conrad Connect
The contributions also showed that
Conrad Connect customers are mainly private customers in their own homes.
In Frankfurt – followed by Munich and Hamburg – with more than 25,000 most smart devices were registered.
Web sites that focused on the analysis: