digitalSTROM AG
digitalSTROM AG

Das Unternehmen
Das Unternehmen digitalSTROM ist 2001 aus der Idee heraus entstanden, elektrischen Geräten auf günstige und ergonomische Art und Weise eine eigene Intelligenz zu geben und sie miteinander zu vernetzen. Nach insgesamt siebenjähriger Entwicklungsphase und konzeptioneller Zusammenarbeit mit der ETH Zürich erfolgte 2011 der Markteintritt.
Seitdem hat sich das Unternehmen ständig weiterentwickelt und ist immer attraktiver geworden. Zahlreiche Awards und Auszeichnungen unterstreichen den Innovationscharakter des Systems und der Produkte und bestätigen die Beliebtheit von digitalSTROM bei unseren Kunden.
Das perfekte Smart Home
Der Smart Home-Standard digitalSTROM steht für ein ganzheitliches Vernetzungskonzept von Gebäudetechnik, Haushaltsgeräte, Heimelektronik und Assistenzsystemen. Die herstellerunabhängige digitalSTROM-Plattform ermöglicht, dass alle Geräte über Software angesteuert werden können, sinnvoll zusammenarbeiten und zunehmend intelligent werden. Analoge Geräte wie z. B. Leuchten, Jalousien und Taster werden mit Hilfe der digitalSTROM-Klemmen digitalisiert und über die vorhandene Stromleitung miteinander sowie mit dem Web vernetzt.
Auch über WLAN oder LAN vernetzte Geräte können schnell und einfach über ihre offenen IP-Schnittstellen in die Plattform integriert werden. So sind die digitalSTROM-Services wie Sprachsteuerung und Automatisierung sofort und für jeden verfügbar.
Motivation für die Beteiligung an Future Living® Berlin
Future Living® Berlin versteht sich als eine Plattform, auf der das Wohnen der Zukunft realisiert wird. Dabei stehen Aspekte wie Energieeffizienz, Barrierefreiheit, Komfort, Sicherheit und Flexibilität im Mittelpunkt.
Mit der digitalSTROM-Plattform liefern wir hierfür die perfekte technologische Basis. Aufbauend auf einer zuverlässigen und zukunftsfähigen Infrastruktur besteht in diesem Projekt die faszinierende Möglichkeit, gemeinsam mit namhaften Unternehmen und Partnern zu zeigen, welche attraktiven Vorteile innerhalb eines vernetzten Zukunftsquartiers entstehen können.
Im Herzen der Metropole Berlin entsteht mit Future Living® Berlin eines der visionärsten Quartierprojekte Deutschlands. Und wir sind stolz darauf und hoffen, dass wir mit der digitalSTROM-Technologie und der digitalSTROM-Plattform einen Beitrag dazu leisten können, dieses Projekt – gemeinsam mit allen Partnern – zum Erfolg zu führen.
Lösungen für Future Living® Berlin
Die Lösung von digitalSTROM ist die Basis für die SmartHome-Ausstattungen der einzelnen Wohnungen und Appartments. Jede ist mit einem digitalSTROM-Server ausgestattet, auf dem das Verhalten von Komponenten für die Licht- und Heizungssteuerung, die Verschattung, Sprachsteuerung und -feedback, die Steuerung der Küchen und Haushaltsgeräte hinterlegt sind. Auf ihm sind Funktionen wie die folgenden hinterlegt:
Den ersten Kontakt mit digitalSTROM hat ein Bewohner bereits an Eingangstür zu seinem Appartement. Denn in einem Future Living® Berlin Appartement ist alles smart, intelligent und miteinander vernetzt. Von der Zugangssteuerung über das Licht und die Beschattung bis hin zur Heizung: Nie war Wohnen so komfortabel, einfach, sicher und energieeffizient.
Überflüssige und lästige Handgriffe werden den Bewohnern durch Automatisierung abgenommen und die Bedienung aller Geräte erfolgt so, wie es für jeden gerade am Bequemsten ist: Per Sprache, Taster oder Smartphone.
Durch eine intelligente und automatisierte Heizungssteuerung entsteht in jedem Raum zu jeder Tageszeit und für jeden Bewohner das perfekte, individuelle Wohlfühlklima. Und weil der Energieverbrauch jedes einzelnen Gerätes transparent wird, lässt sich in einem Future Living® Berlin Appartement dank digitalSTROM auch die Energieeffizienz steigern und Kosten lassen sich senken.
Mit der Kommen-Gehen-Funktion erhält jeder Bewohner zudem eine Art "Rund-um-Sorglos-Funktion". Sie sorgt dafür, dass alle Lampen ausgehen und die Jalousien heruntergefahren werden. Außerdem werden verschiedene über das IP-Netz in das digitalSTROM-System eingebundenen Geräte (wie z.B. eine SONOS, ein Panasonic TV oder bestimmte Home Connect Geräte wie z.B. eine Kaffeemaschine) ebenfalls vom Stromnetz genommen.
Das Beste daran: Jede diese einzelnen Anwendungen und Konfigurationen ist jederzeit und ganz einfach an die individuellen Bedürfnisse und Lebensphasen anpassbar. Dank regelmäßiger Updates wird ein Future Living® Berlin-Appartement außerdem von Jahr zu Jahr immer besser – und bleibt damit auf lange Sicht zukunftsfähig.
Lassen Sie sich inspirieren:
Bedienen Sie Ihr Smart Home so, wie es für Sie am bequemsten ist: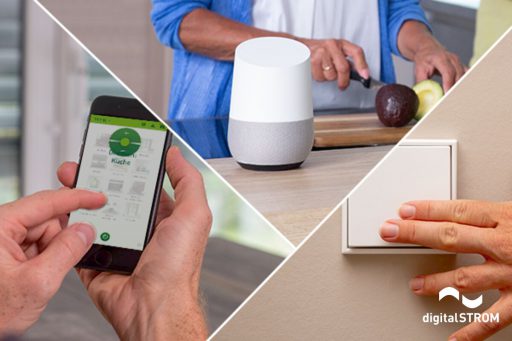 Perfekte Lichtstimmung für jeden Anlass: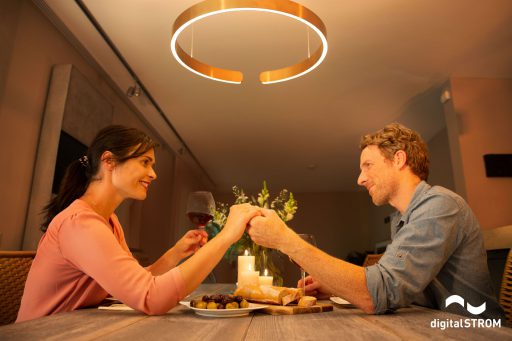 Energietransparenz sorgt für Energieeffizienz: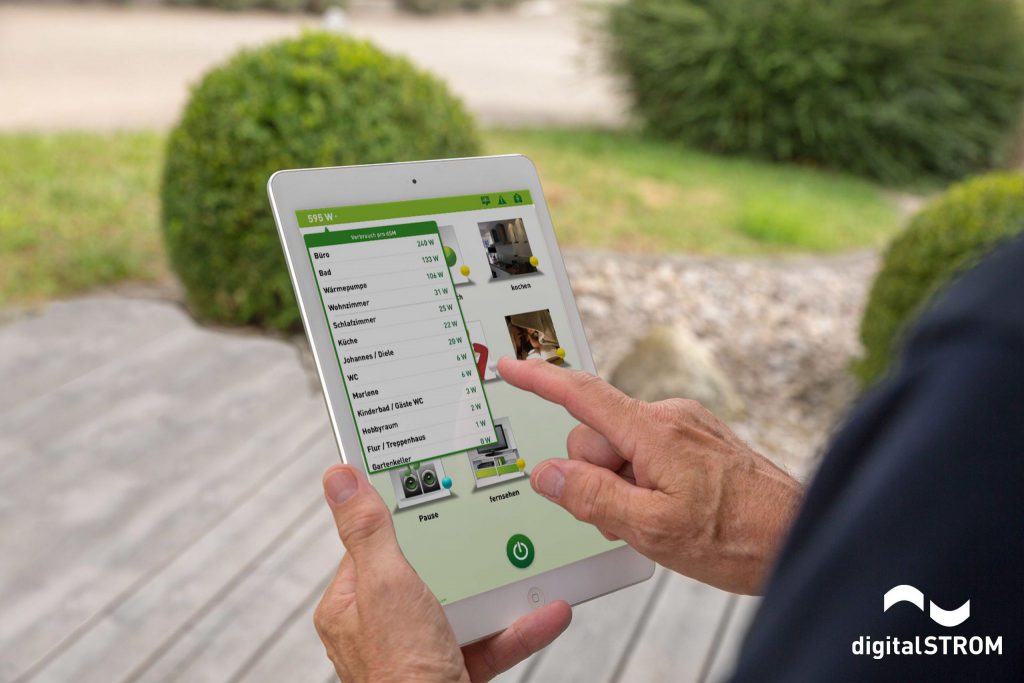 Kommen-und-Gehen-Funktion ist unsere "Rundum-Sorglos-Funktion":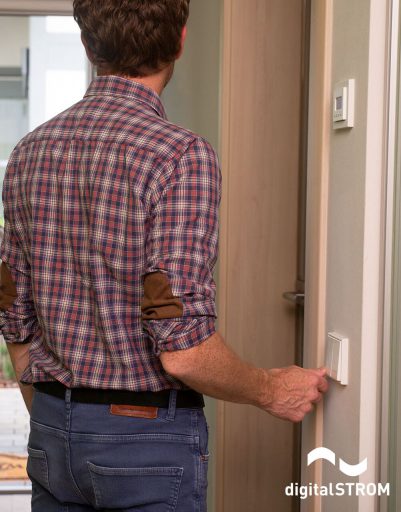 Perfekte Wohlfühltemperatur für jeden Bewohner und in jedem Raum: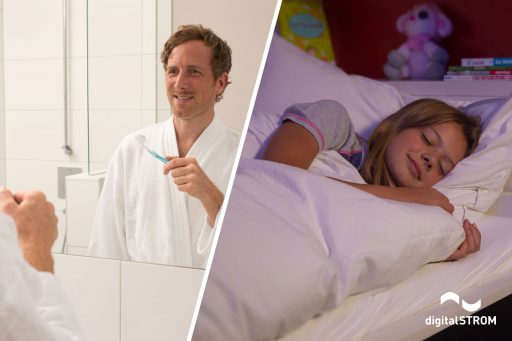 Mit digitalSTROM bleiben Sie in jeder Lebensphase flexibel: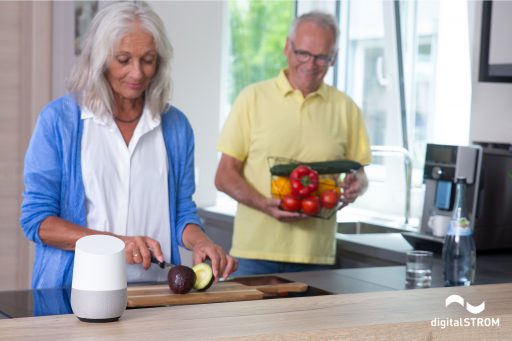 Harmonisches Zusammenspiel von analoger und digitaler Welt: YouTube-Film
Download
Die Bilder finden Sie in druckfähiger Auflösung hier:
Einen Beitrag zu Future Living® Berlin finden Sie auf der Seite von digitalSTROM.

Company
The company digitalSTROM was created in 2001 with the idea of giving electrical devices their own intelligence and networking them together in an economic and ergonomic way. After a total of seven years of development and conceptual collaboration with ETH Zurich, the market entry took place in 2011.
Since then, the company has constantly evolved and has become increasingly attractive. Numerous awards and honors underline the innovation character of the system and products and confirm the popularity of digitalSTROM among our customers.
The Perfect Smart Home
The SmartHome standard digitalSTROM stands for a holistic networking concept of building technology, household appliances, home electronics and assistance systems. The manufacturer-independent digitalSTROM platform enables all devices to be controlled via software, work together in a meaningful way and become increasingly intelligent. Analog devices such as luminaires, blinds and pushbuttons are digitized with the aid of the digitalSTROM clamps and networked via the existing power line with each other and with the web.
Devices networked via WLAN or LAN can be quickly and easily integrated into the platform via their open IP interfaces. The digitalSTROM services such as voice control and automation are immediately available to everyone.
Motivation for the Engagement in Future Living® Berlin
Future Living® Berlin sees itself as a platform on which future living is realized. The focus is on aspects such as energy efficiency, accessibility, comfort, safety and flexibility.
With the digitalSTROM platform, we provide the perfect technological basis for this. Building on a reliable and sustainable infrastructure, this project offers the fascinating opportunity to show together with well-known companies and partners what attractive advantages can arise within networked future residential districts.
Solutions provided for Future Living® Berlin
The digitalSTROM solution is the basis for the SmartHome equipment of the apartments and studios. Each is equipped with a digitalSTROM server, which stores the behavior of components for lighting and heating control, shading, voice control and feedback, control of kitchens and household appliances. On it functions are deposited like the following:
The first contact with digitalSTROM has a resident already at the entrance door to his apartment. Because in a Future Living® Berlin apartment everything is smart, intelligent and networked. From access control to lighting and shading to heating: living has never been so easy, simple, safe and energy efficient.
Unnecessary and annoying handlings are taken away from the occupants by automation, and all devices are operated in the way that is most convenient for everyone: by voice, push-button or smartphone.
An intelligent and automated heating control creates the perfect, individual feel-good climate in every room at any time of the day and for every resident. And because the energy consumption of each individual device becomes transparent, the energy efficiency of a Future Living® Berlin apartment can also be increased thanks to digitalSTROM and costs can be reduced.
With the Come-Go function, each resident also receives a kind of "worry-free" function. It ensures that all lights are switched off and the shutters are shut down. In addition, various devices (such as a SONOS, a Panasonic TV, or certain home connect devices such as a coffee machine) connected to the digitalSTROM system via the IP network also will be disconnected from the power supply.
Best of all, each of these individual applications and configurations can be easily and quickly adapted to individual needs and life stages. Thanks to regular updates, a Future Living® Berlin apartment is also getting better and better year after year – and thus remains fit for the future in the long term.
Let yourself be inspired:
Operate your Smart Home the way it is most comfortable for you: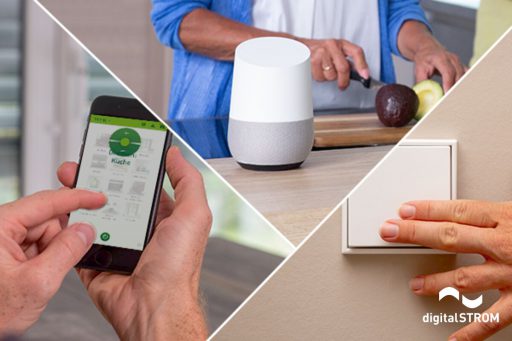 Perfect lighting mood for every occasion: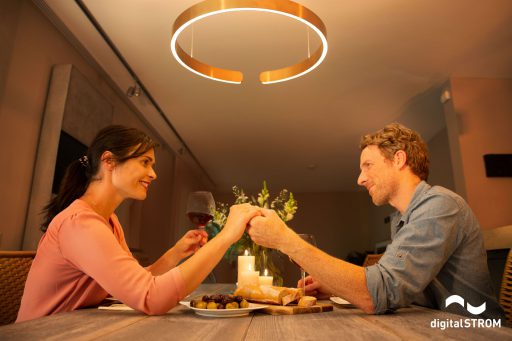 Energy transparency ensures energy efficiency: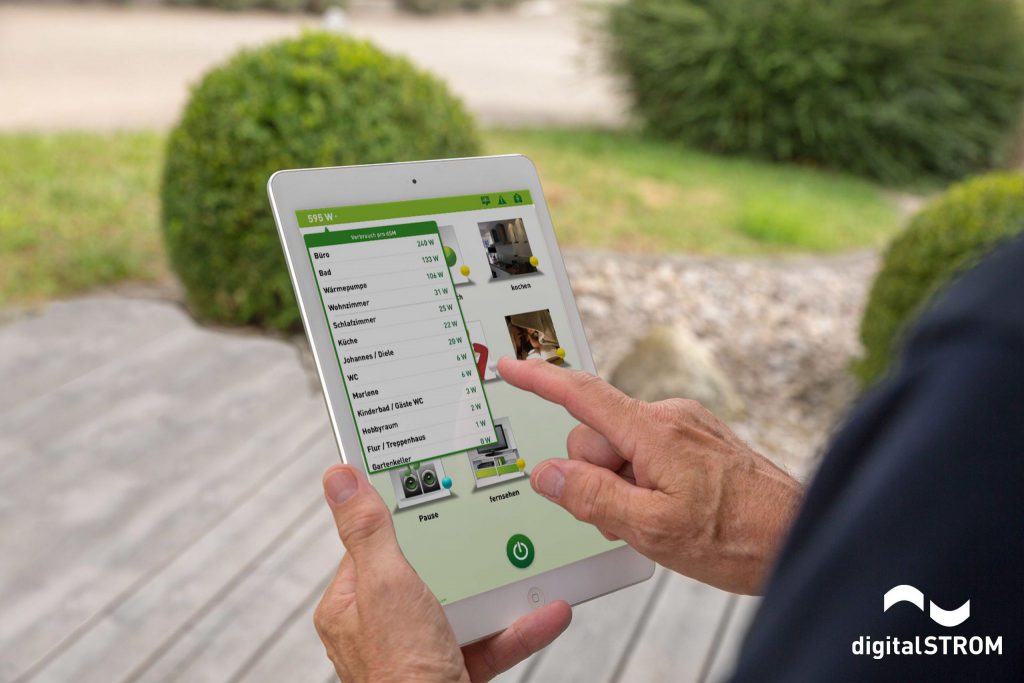 Come-and-go feature is our "all-round carefree feature":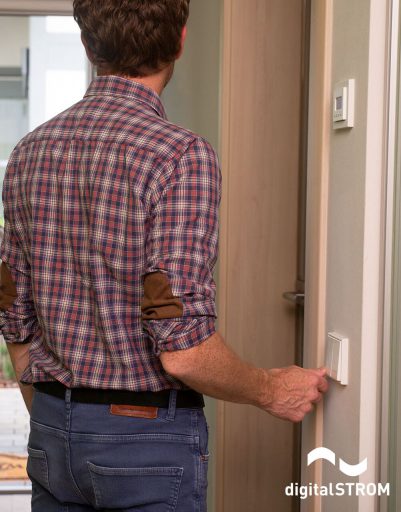 Perfect feel-good temperature for every resident and in every room: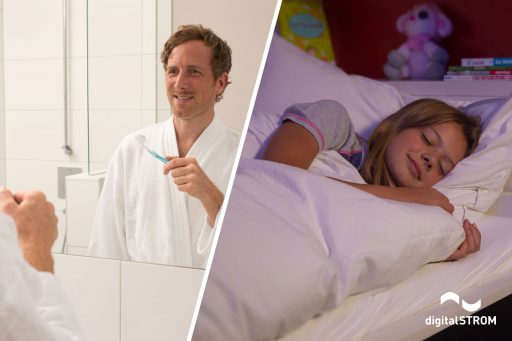 With digitalSTROM you remain flexible in every phase of your life: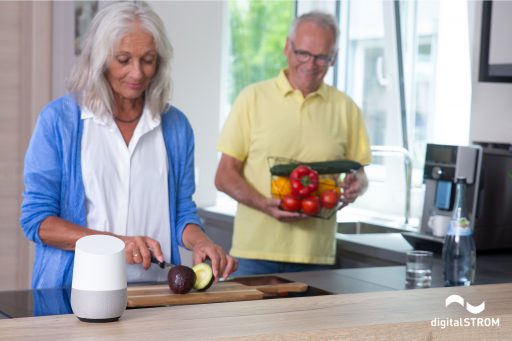 Harmonious interaction of analog and digital world: YouTube Film
Download
Images for print can be found here:
An article about Future Living® Berlin can be found on digitalSTROM's webpage.