31.10.2019
ForeSight ist Themenpate für GAIA-X
ForeSight is Theme Sponsor for GAIA-X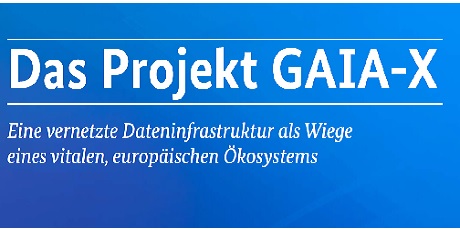 Am 29.10.2019 wurde im Rahmen des Digital Gipfels in Dortmund offiziell das Konzept für eine leistungs- und wettbewerbsfähige, sichere und vertrauenswürdige Dateninfrastruktur für Europa vorgestellt und der Startschuß für deren Umsetzung verkündet.
Siehe hierzu: Eine vernetzte Dateninfrastruktur als Wiege eines vitalen, europäischen Ökosystems
Innerhalb der ForeSight-Konsortiums wurde schon seit einiger Zeit über das Projekt gesprochen, denn ForeSight steht, vertreten durch Anke Hüneburg, Jochen Schäfer (ZVEI), Hilko Hoffmann (DFKI), Kerstin Bergmann (BOSCH) und Thomas Feld (Strategion), als Themenpate für Smart Living für GAIA-X.
Praxisbeispiel und aktuelle Herausforderungen zum Themenbereich Smart Living
Das Ökosystem rund um Smart Living entwickelt sich zu einem attraktiven Markt. Allein 23 Millionen Mietwohnungen in Deutschland könnten mit Automatisierungslösungen und intelligenten Geräten ausgestattet werden.
Diese Geräte müssen nahtlos interagieren können. Voraussetzung für KI-basierte Geschäftsmodelle sind eine durchgängige Datenerfassung, -verarbeitung und -vernetzung (in der Grafik: GAIA-X-Knoten). Dafür bedarf es einer geeigneten Cloud-Umgebung.
Viele Unternehmen der Wohnungswirtschaft wollen Daten von Kundinnen und Kunden ausschließlich in Cloud-Umgebungen in Europa speichern und verarbeiten (DSGVO-Raum).
Intelligente Services leben zudem von der Verknüpfung mit Daten aus angrenzenden Systemwelten wie Smart Energy oder Smart Mobility in KI-basierten Anwendungen. Diese Daten müssen sinnvoll strukturiert, sicher und zuverlässig verfügbar sein – was bislang noch nicht der Fall ist.
Für eine Skalierung von Smart Living bedarf es einer sicheren, skalierbaren, performanten und europäischen Cloud-Umgebung, die lokale Edge-Geräte zur Vermeidung von hohen Latenzzeiten miteinschließt.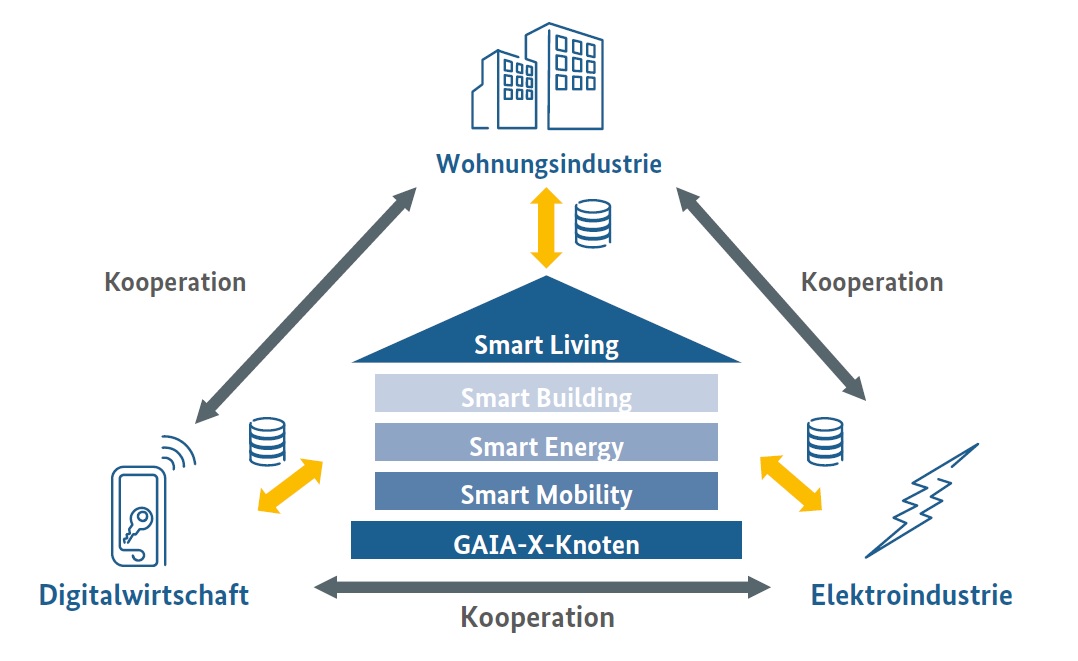 Welchen Mehrwert bietet das "Projekt GAIA-X" für den Themenbereich Smart Living?
Das Projekt bietet der Wohnungswirtschaft einen einfachen und sicheren Zugang zu einer multifunktionalen Cloud-Umgebung im DSGVO-Raum (bspw. Datenspeicher, maschinelles Lernen, semantische Beschreibung, Mustererkennung, vorausschauendes Verhalten).
Das Projekt vernetzt regionale und funktional spezialisierte Rechenzentren und unterstützt damit die Skalierung von Smart-Living-Anwendungen, die aufgrund hoher Latenzanforderungen auf Edge-Computing angewiesen sind.
Das Projekt erleichtert geeignete Standardisierungsvorgaben zur Verknüpfung der wachsenden Datenmengen und fördert damit die Entstehung weiterer KI-Anwendungen, insbesondere durch die Zusammenarbeit zwischen der Digitalwirtschaft, Wohnungswirtschaft und Elektroindustrie.
On 29.10.2019, the concept of an efficient and competitive, secure and trustworthy data infrastructure for Europe was officially presented at the Digital Summit in Dortmund and the starting signal for its implementation was announced.
More information: Eine vernetzte Dateninfrastruktur als Wiege eines vitalen, europäischen Ökosystems (German only)
Within the ForeSight consortium the project has been talked about for some time, because ForeSight is Theme Sponsor for Smart Living for GAIA-X represented by Anke Hüneburg, Jochen Schaefer (ZVEI), Hilko Hoffmann (DFKI), Kerstin Bergmann (BOSCH) and Thomas Feld (Strategion).
Extract from GAIA-X description (German only):
Practical example and current challenges
The ecosystem around Smart Living is developing into an attractive market. Alone 23 million rented apartments in Germany could be equipped with automation solutions and intelligent devices.
These devices need to be able to interact seamlessly. A prerequisite for AI-based business models is continuous data collection, processing and networking (in the graphic: GAIA-X nodes). This requires a suitable cloud environment.
Many housing companies want to store and process customer data only in cloud environments in Europe (DSGVO).
Intelligent services also live from the link with data from adjacent system worlds such as Smart Energy or Smart Mobility in AI-based applications. This data must be well structured, secure and reliable available – which is not yet the case.
Scaling smart living requires a secure, scalable, high-performance and European cloud environment that includes local edge devices to prevent high latencies.