17.08.2019
Partnernetzwerk für ForeSight
Partner network for ForeSight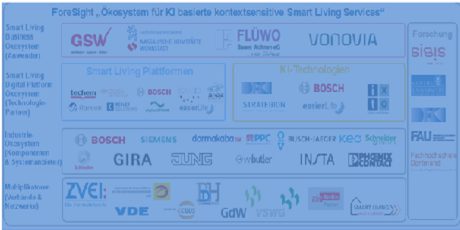 Mega-Ökosystem für Smart Living
Das Interesse an der Entwicklung von ForeSight ist groß. Partner aus allen Bereichen des Mega-Ökosystems für Smart Living beteiligten sich in den letzten Wochen an Workshops, Arbeitsgruppentreffen und den großen Abstimmungsmeetings. Im Konsortium für die Umsetzung der ForeSight-Plattform sind über 40 Unternehmen, Einrichtungen und Verbände beteiligt – als direkte Partner, im Unterauftrag und als assoziierte Partner:
Investoren und Betreiber aus der Wohnungswirtschaft, die Wohngebäude planen, errichten und verkaufen (Eigenheime und Eigentumswohnungen) oder Mehrfamilienhäuser für die Vermietung errichten und über einen langen Zeitraum betreiben
Hersteller von Komponenten, Systemwelten und Lösungen, die unmittelbar von Endnutzern erworben und genutzt werden oder aber ihren Weg über Investoren/Bauherren, Fachplaner, Fachhandel und Handwerker in Wohnungen und Gebäude finden
Plattform-Anbieter, die unabhängig von einzelnen Herstellern Systeme, Komponenten und Lösungen mithilfe von Middleware und Hardware-Komponenten (Gateways, etc.) verbinden
Dienstleister (z. B. aus den Bereichen Gesundheit, Versicherung, Handel, Sicherheit, Mobilität, Energie, etc.), die sich der Smart Living-Ausstattung bedienen und darauf Geschäftsmodelle bzw. Services aufbauen
Verbände, die eine große Breitenwirkung und die Einbeziehung möglichst vieler Stakeholder erreichen
Akademische Partner, die sich mit technischen Themen befassen, aber auch wirtschaftlichen und sozialen Aspekten
Management eines Mego-Ökosystems
Über 40 Parter aus diversen Bereichen mit unterschiedlichen Strukturen und Kulturen in einem Projekt zusammenzuführen, ist eine Kunst, die nur mit einer straffen Organisation zum Erfolg führen kann. Aus diesem Grund war neben den technischen und inhaltlichen Themen die Formulierung und Abstimmung einer gemeinsamen Governance-Struktur und Projektorganisation für ForeSight ein wesentlicher Punkt für dessen Erfolg.
Mega Ecosystem for Smart Living
The interest in the development of ForeSight is great. Partners from all areas of the Smart Living mega-ecosystem have been involved in workshops, working group meetings and major voting meetings in recent weeks. More than 40 companies, institutions and associations are involved in the ForeSight platform consortium – as direct partners, as subcontractors and as associated partners:

Investors and operators in the housing industry who plan, build and sell residential buildings (homes and condominiums) or build multi-family homes for rental and operate them over a long period of time
Manufacturer of components, system worlds and solutions that are purchased and used directly by end users, or that find their way into homes through investors / builders, planners, retailers and craftsmen
Platform vendors who independently connect systems, components and solutions using middleware and hardware components (gateways, etc.)
Service providers (eg from the fields of health, insurance, trade, security, mobility, energy, etc.), who make use of the Smart Living equipment and build business models or services thereon
Associations that achieve a broad impact and the involvement of as many stakeholders as possible
Academic partners dealing with technical issues but also economic and social aspects
Management of a Mego-Ecosystem
Bringing together over 40 parters from diverse fields with different structures and cultures in one project is an art that can only lead to success with a tight organization. For this reason, in addition to the technical and content issues, the formulation and coordination of a common governance structure and project organization for ForeSight was an essential point for its success.